Regular price
Sale price
₹ 399.00
Unit price
per
Sale
Sold out
Experience the magic of Kashmir in every sip with our premium Kashmiri Kehwah tea. Made with only the finest, locally sourced ingredients, this tea is truly poetry in a cup.
Each sip is a symphony of flavours, a blend of the most amazing spices including Kehwa tea leaves, cardamom, cinnamon, and almond. The simple and elegant packaging represents the tea's rich taste and benefits. With its bold aroma and warm, inviting flavour, this tea is perfect for any occasion, from a cosy morning at home to a formal dinner party. 
Indulge in a cup of this true elixir, fit for royalties. With every sip, you'll be transported to the beautiful valleys of Kashmir and the aroma of rich spices. Treat yourself to a cup of Kashmiri Kehwah, and experience the ultimate in luxury and wellness.

✦ 16gram: 25-30 cups (~15rs/cup)
✦ Boil with water for more flavour

Benefits

Green tea, packed with antioxidants that can benefit your overall health, including your heart and brain. It can also help with weight loss, blood sugar control, and potentially even lower your risk of certain types of cancer.
Cardamom, known for its anti-inflammatory properties, it can help ease stomach discomfort and improve breathing.
Almonds are a rich source of Vitamin E, magnesium and healthy fats that can help promote heart health and lower cholesterol levels.
Cinnamon, known to have anti-inflammatory properties and can help regulate blood sugar levels and improve digestion.
Ingredients

Kehwah green tea
Cardamom (Elaichi)
Almonds (Badaam)
Cinnamon (Dalchini)
No sugar or artificial sweetner added
No milk
Nutritional info

Nutritional Facts {approx.} per 100g (Each bottle is 16gms)
Energy 318.64 kcal
Fat (on a dry basis)<0.10 g
Protein 19.42 gm
Sugar < 0.10gm
Carbohydrate 60.24 gm
Shipping

The product will reach you within 3-5 business days
Share
View full details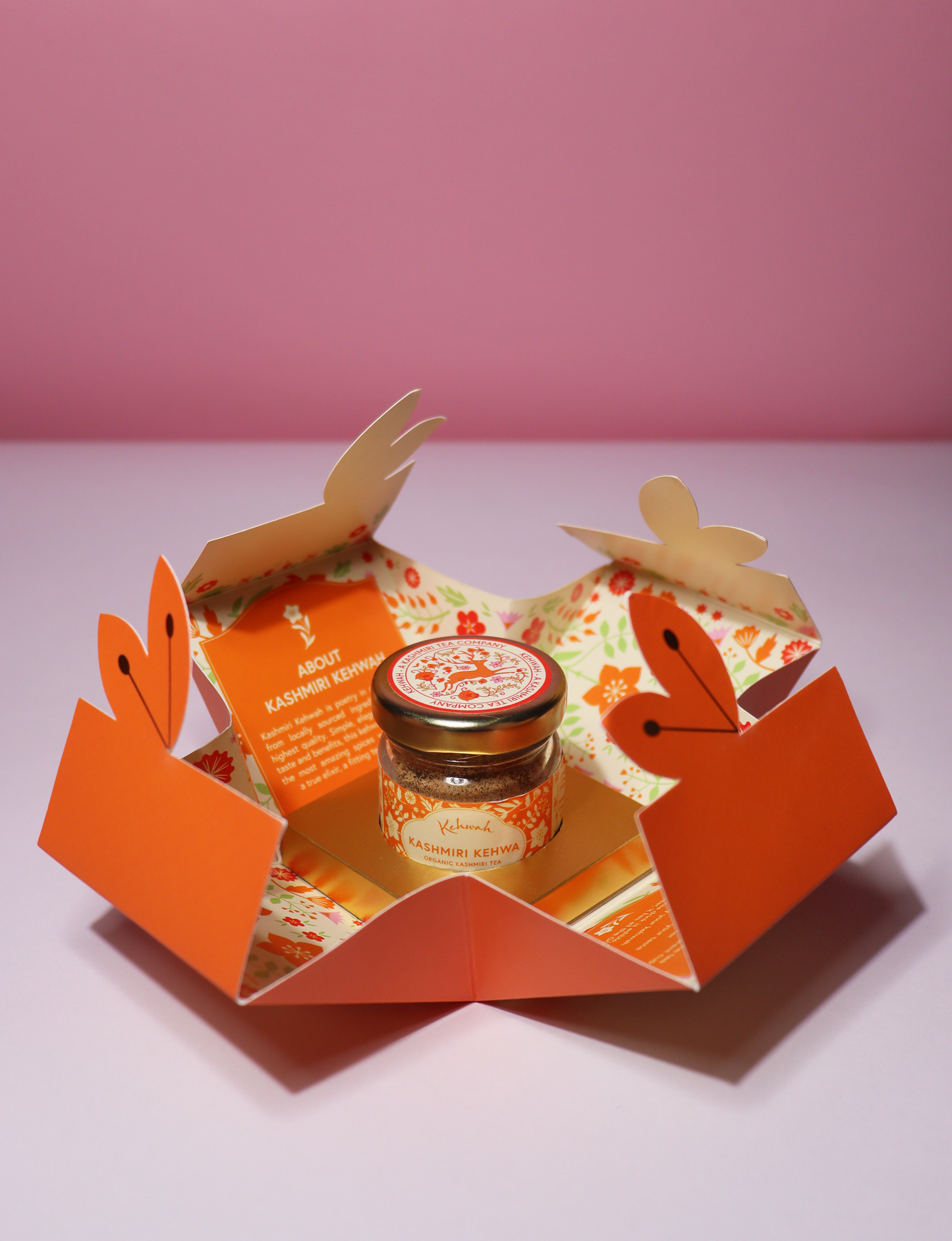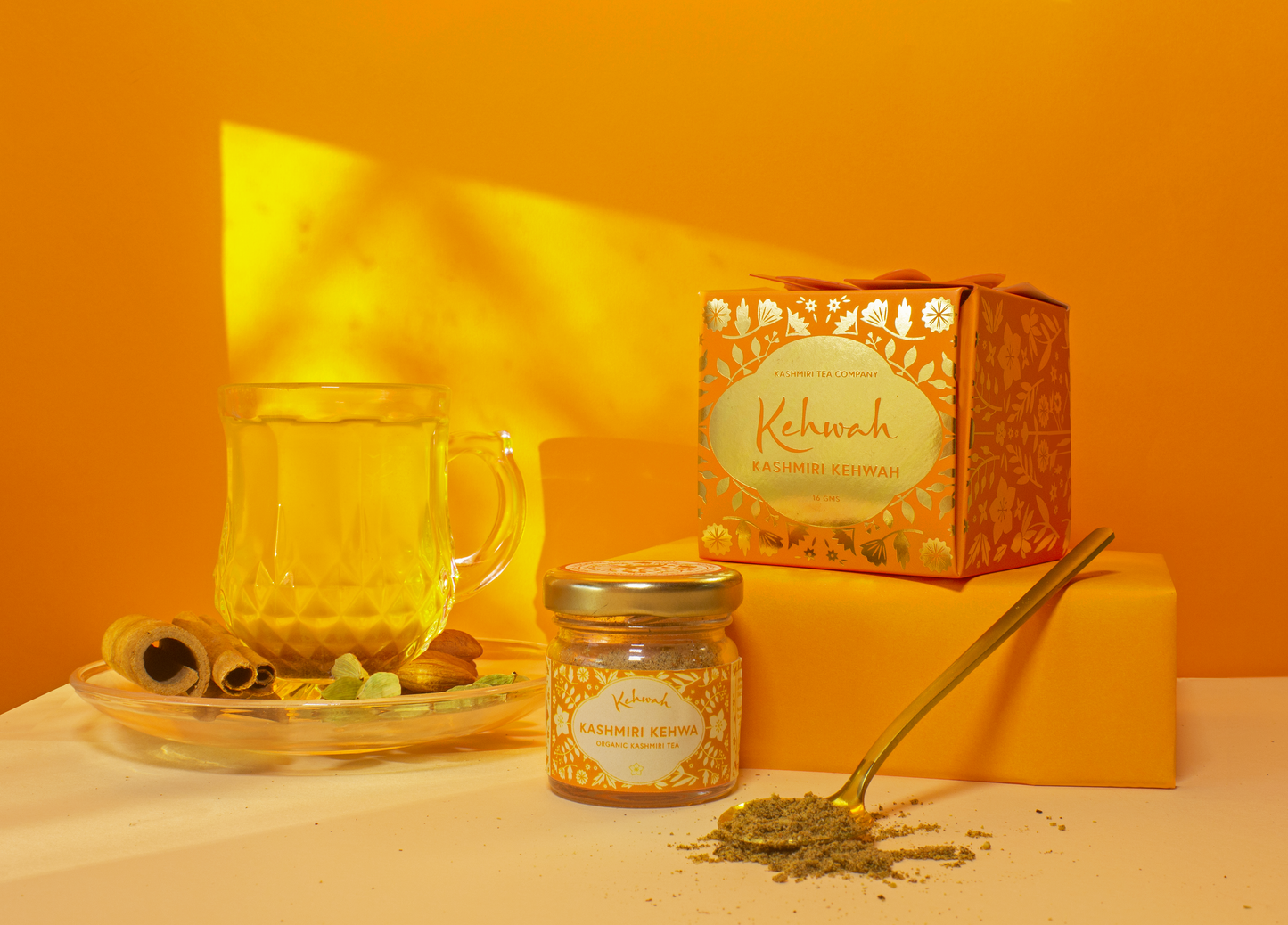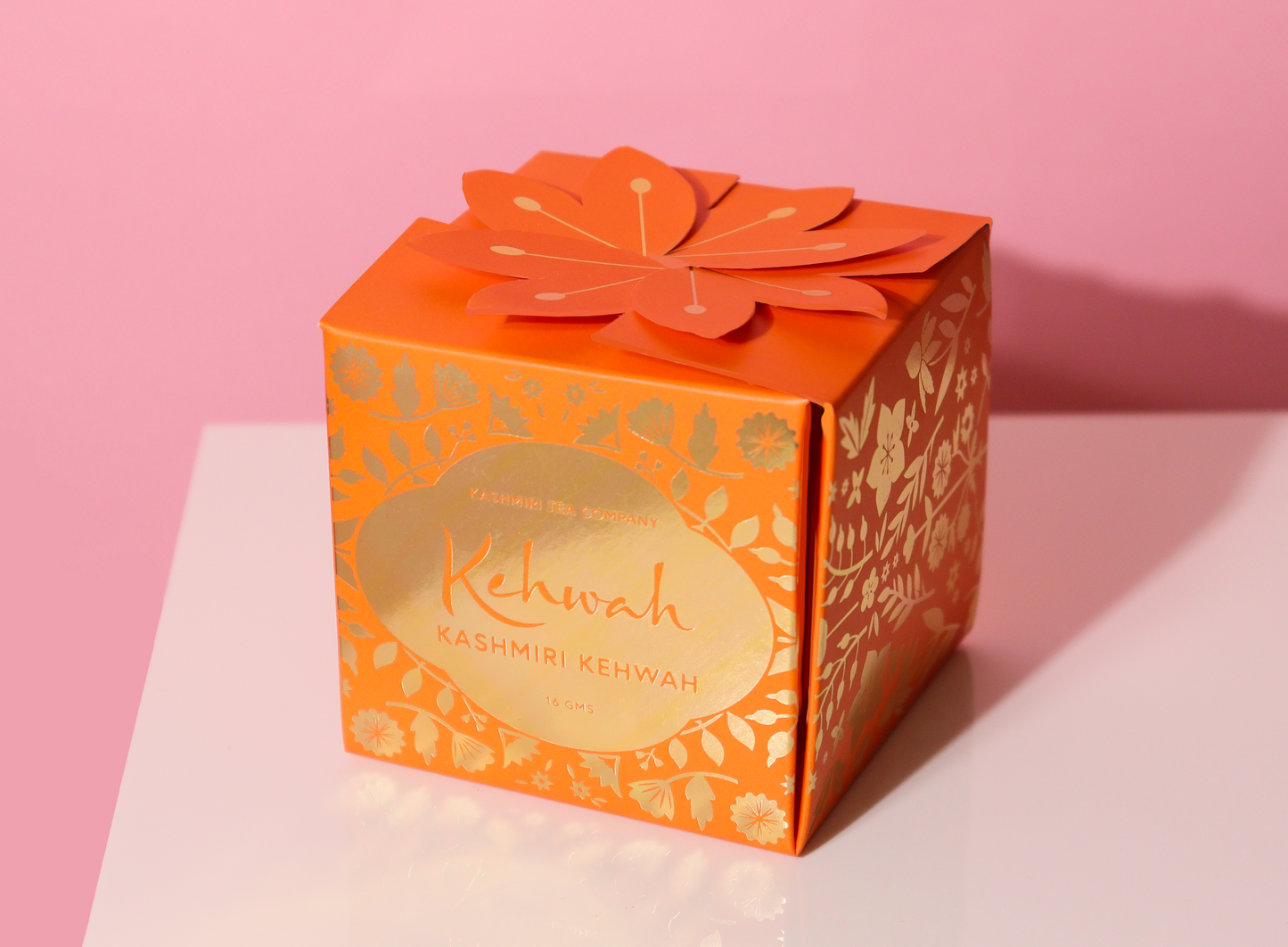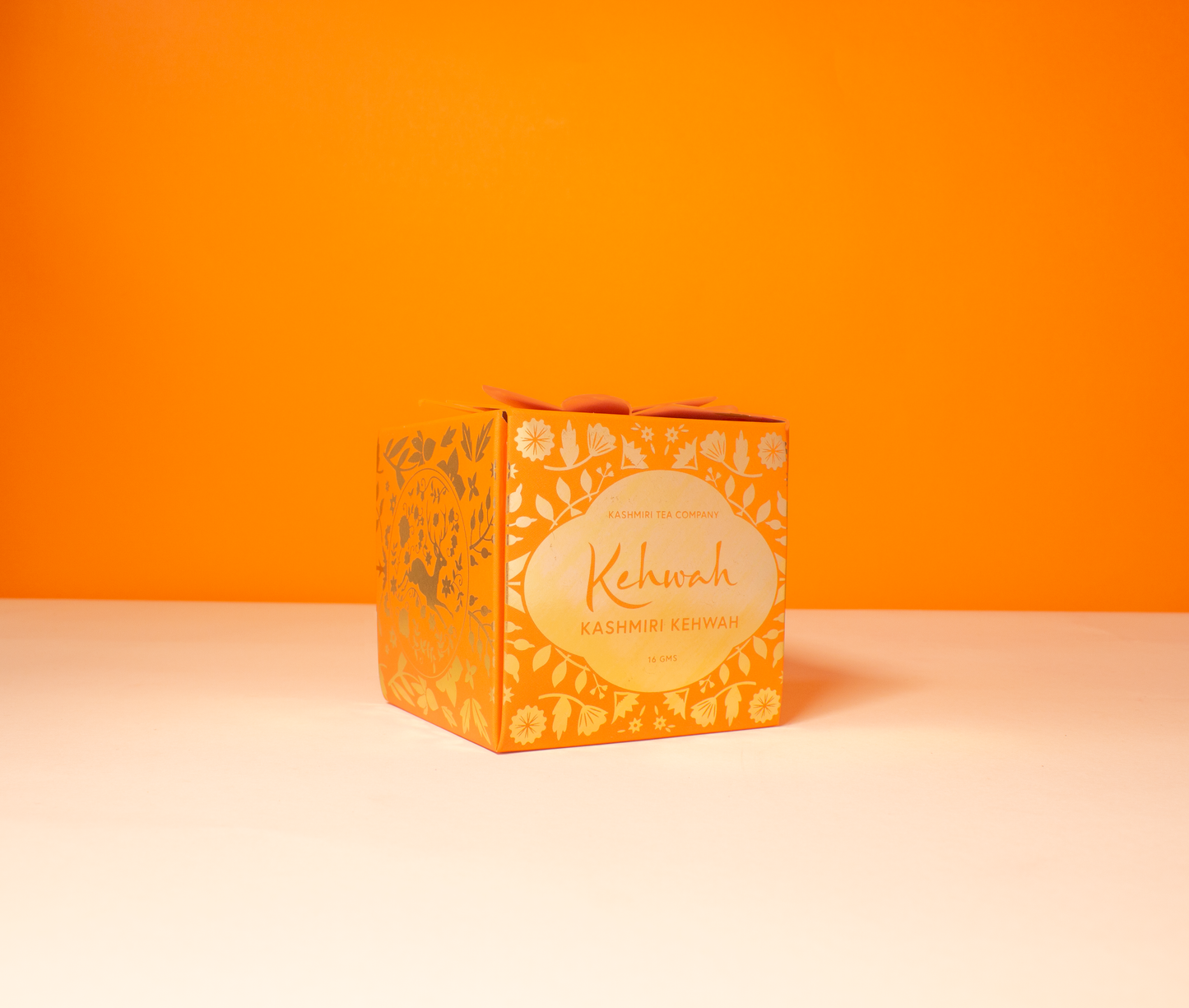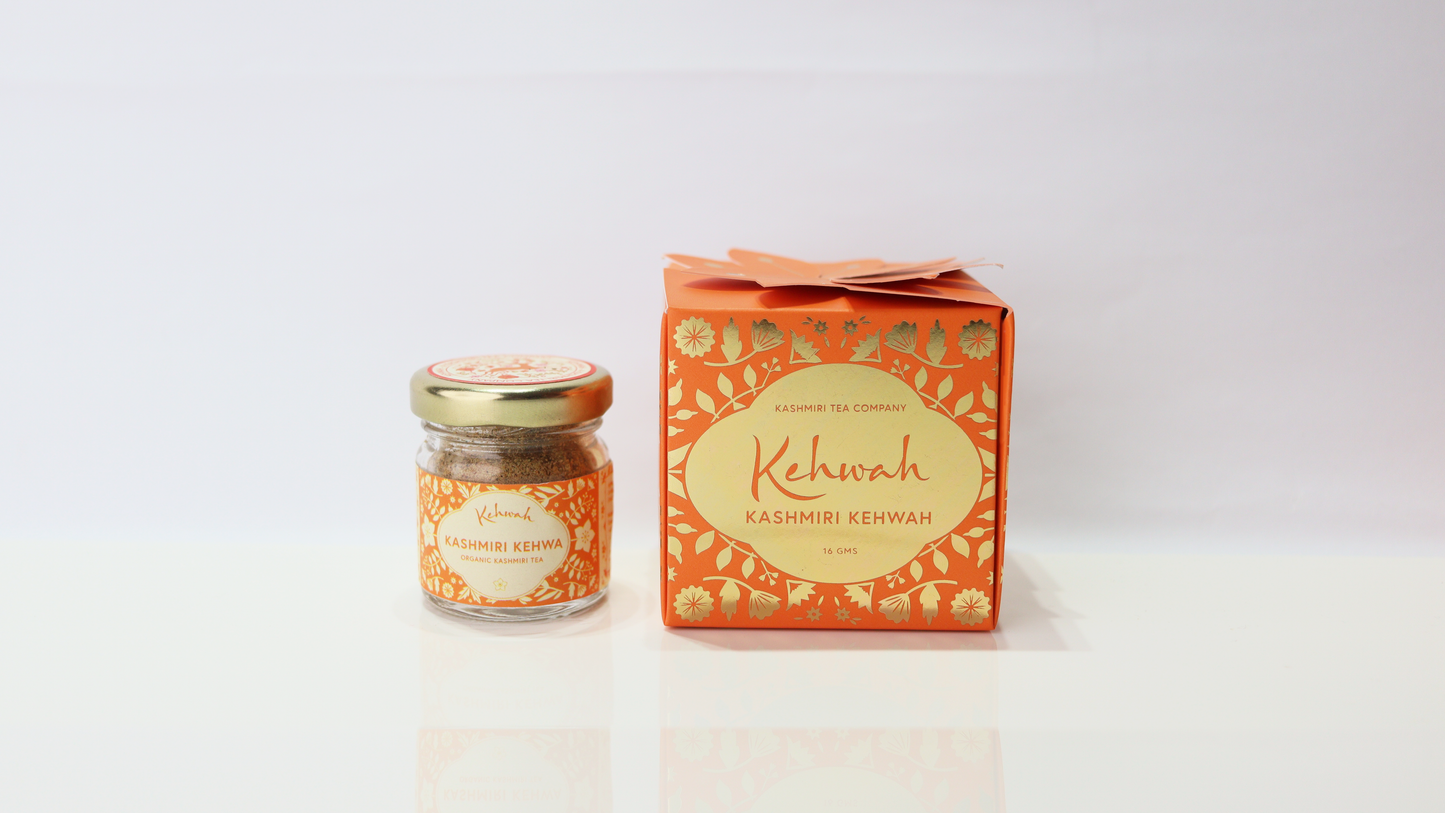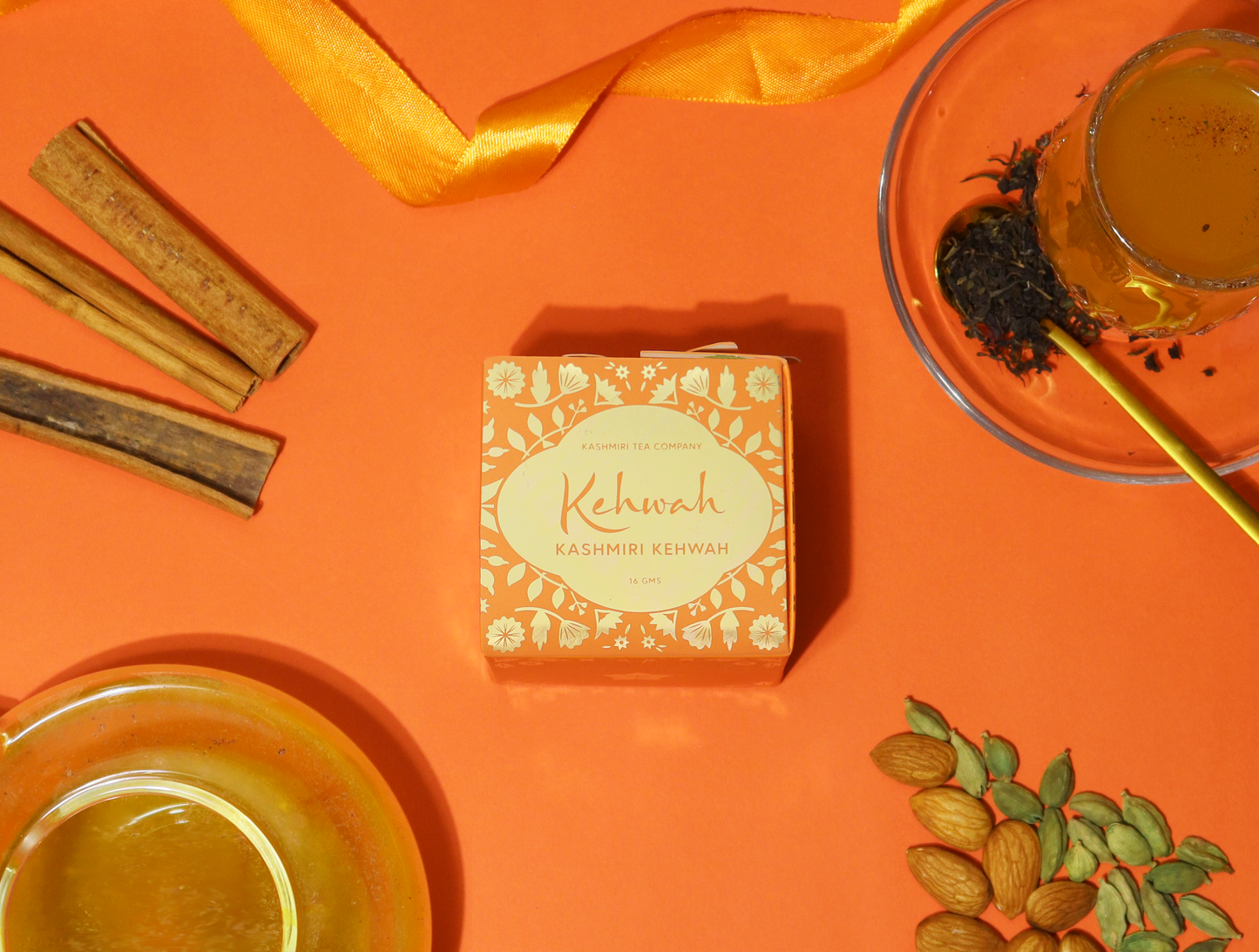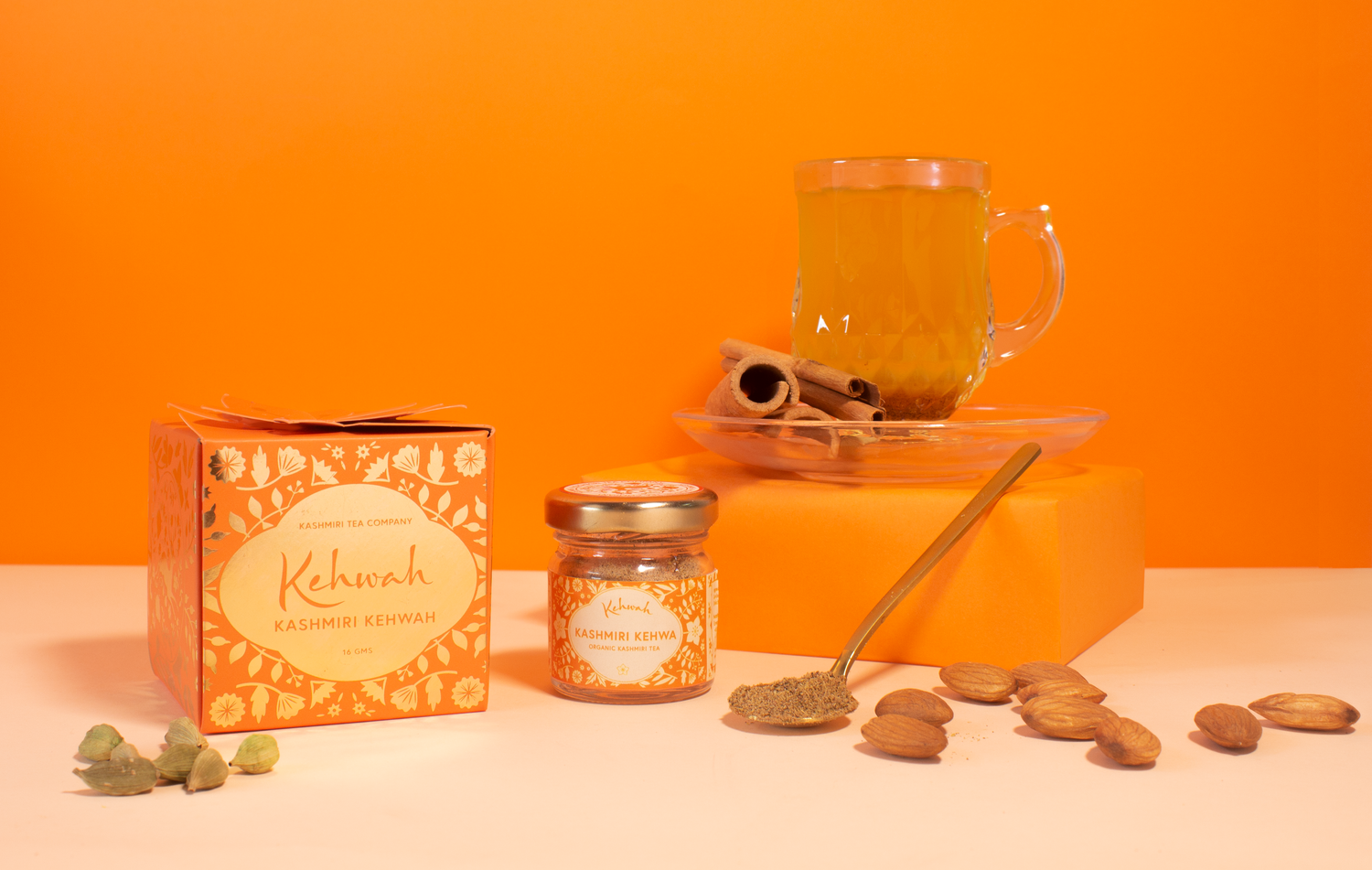 Get Your Daily Dose of Tranquility with Kashmiri Kehwah
Sipping on a delicious cup of Kashmiri Kehwah is like taking a mini vacation in a cup! To make your tea at home:
Grab a small transparent cup
Add a quarter teaspoon of the tea powder
Pour 120ml of hot water into the cup
Add sugar as per your taste preference (can skip)
Stir the tea until the powder is fully dissolved in the water
Enjoy your kehwah, Don't strain the powder, it has all the good stuff!
Enjoy your aromatic, delicious, and authentic kehwah tea.

Each bottle comes with 16 grams of powder, giving you enough to make 30 cups of pure bliss. So go ahead, treat yourself to a cup of pure paradise and relax in the warmth and serenity of Kashmiri Kehwah.
How to make Kashmiri Kehwah
Kehwah green tea

Cardamoms & Almonds

Cinnamon
Praise for Kashmiri Kehwah
"I was looking for a new tea to try, and I am so glad I found this one. The premixed powder is so convenient and creates the perfect cup every time. I love that I can customize the sweetness to my liking. I will definitely be buying more of this tea."
- Rakesh M.

"This tea is like no other, I have ever tried. The bold aroma and warm inviting flavor is SO good! The packaging is simple and elegant, perfect for any occasion. I can't get enough of this tea!
- Dr Saurabh K.

"I never knew tea could be so easy until I tried Kashmiri Kehwah! The mix of flavors is like a party in my mouth. I love that it's locally sourced. I have a new ritual now, whenever I have a long day at work, I come home and treat myself to this amazing cup of oasis!"
- Minal O.