Regular price
Sale price
₹ 1,499.00
Unit price
per
Sale
Sold out
Introducing our Assorted Tea Gift Box, the perfect gift for any tea lover. The assorted teas are enclosed in a colourful origami box, and put together in a classically designed long box. This beautiful collection of teas is a true representation of the rich culture and traditions of Kashmir and is crafted with homegrown recipes passed down through generations. Each tea is unique and special, making this gift box a truly thoughtful and memorable present.
The first tea, Kesar Kehwah, is a pure and delicate tea infused with the finest saffron from the Kashmir valley. It is the perfect reminder of home and a symbol of health and well-being.
The second tea, Kashmiri Kehwah, is a blend of the finest locally sourced ingredients that are rich in taste and benefits. This tea is fit for royalties and will transport the receiver to the poetry of the valley with each sip, making it an elegant and thoughtful present.
The third tea, Noon chai, is a valley's favourite post-meal drink. This tea is perfect for any tea lover looking for a unique and acquired taste, and it can help in digestion post meals or as an in-between refreshment.
This gift box is designed to delight your loved one and make them feel special, It is a curated collection of teas that is sure to make an impression and be enjoyed for many cups to come.

✦ 16gram: 25-30 cups (~15rs/cup)
✦ Boil with water for more flavour
Contents

Kesar Kehwah - 100% organic saffron tea - 1 pack
Kashmiri Kehwah - 100% organic cardamom tea - 1 pack
Noon Chai - 100% organic salt digestive tea - 1 pack
Allergen info

Vegan teas: Made with ingredients that are free from animal products.
Dairy free: Does not contain milk or milk derivatives.
Gluten free: Does not contain gluten or gluten derivatives.
No added sugar or sweetener: Does not contain any added sugars or artificial sweeteners.
No added preservatives: Does not contain any added preservatives to maintain freshness
Shipping

The product will reach you within 3-5 business days
Share
View full details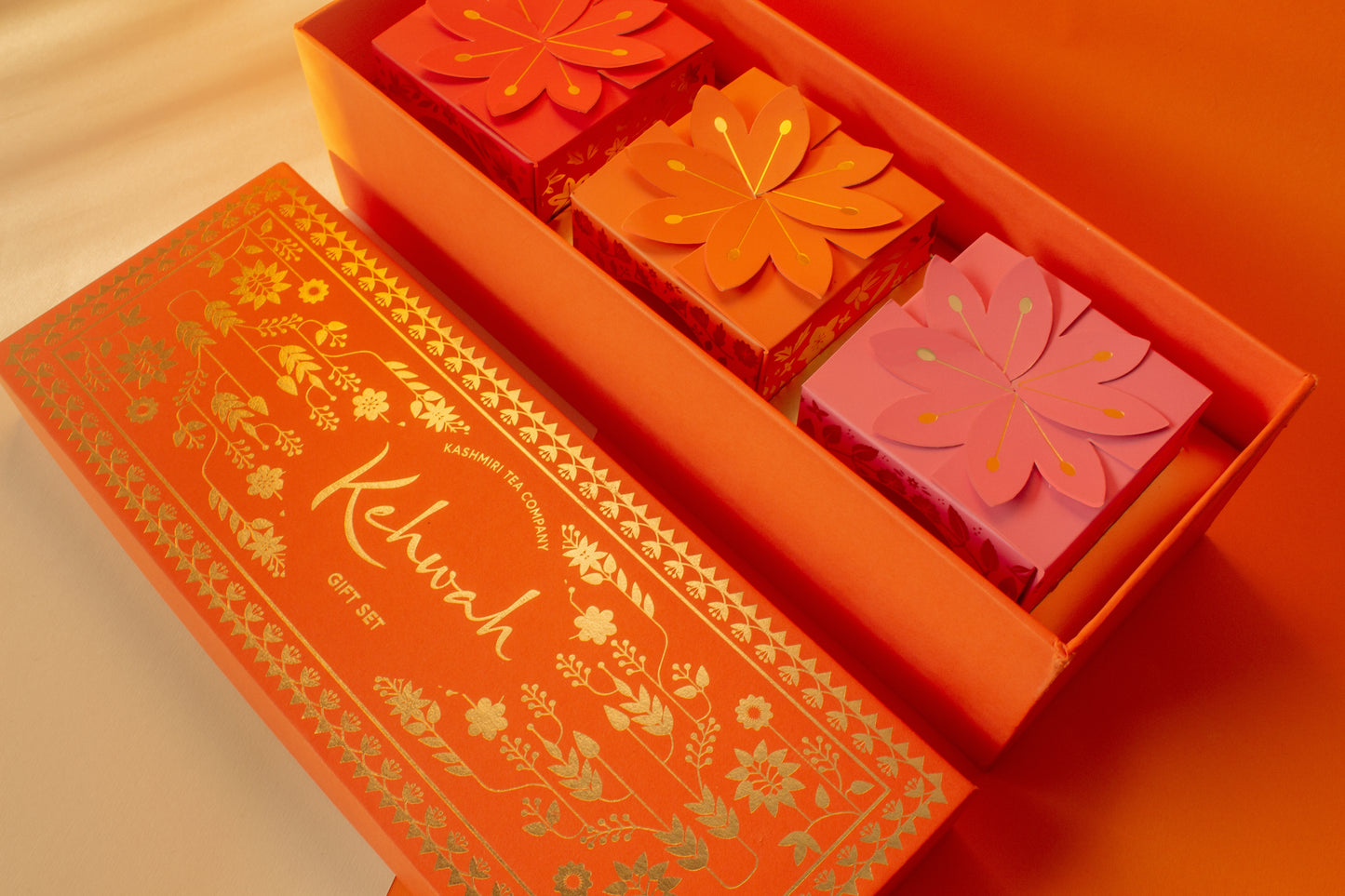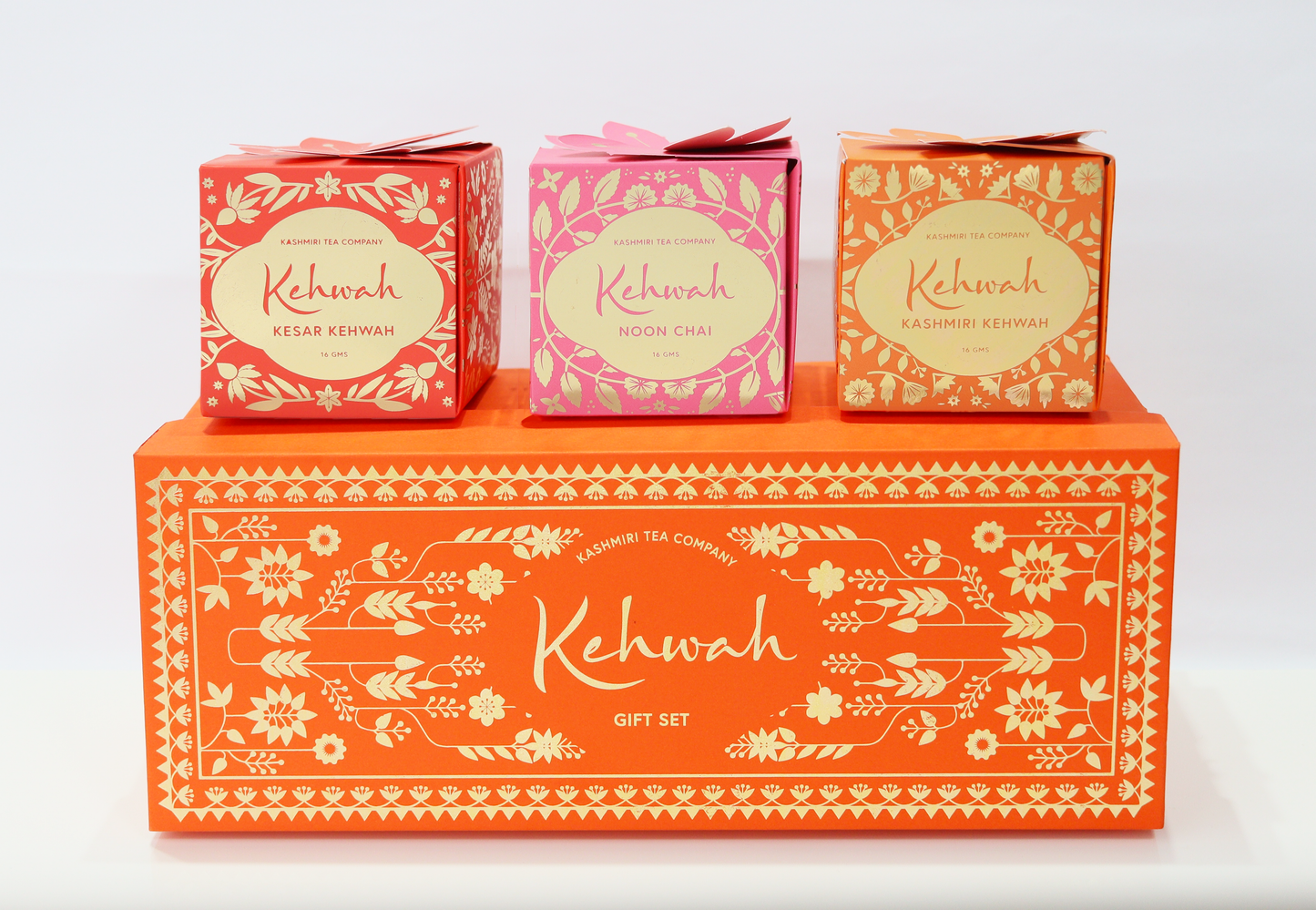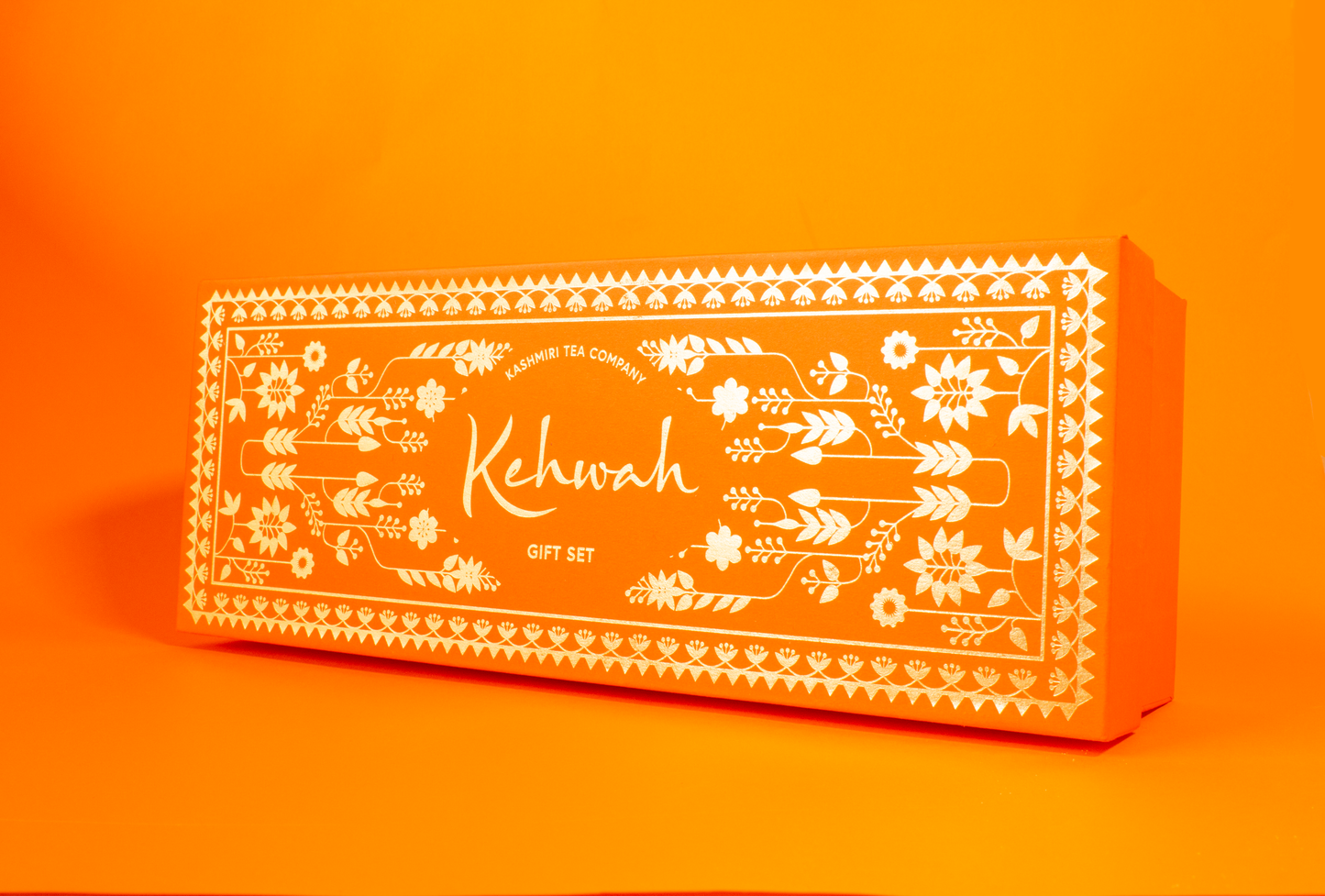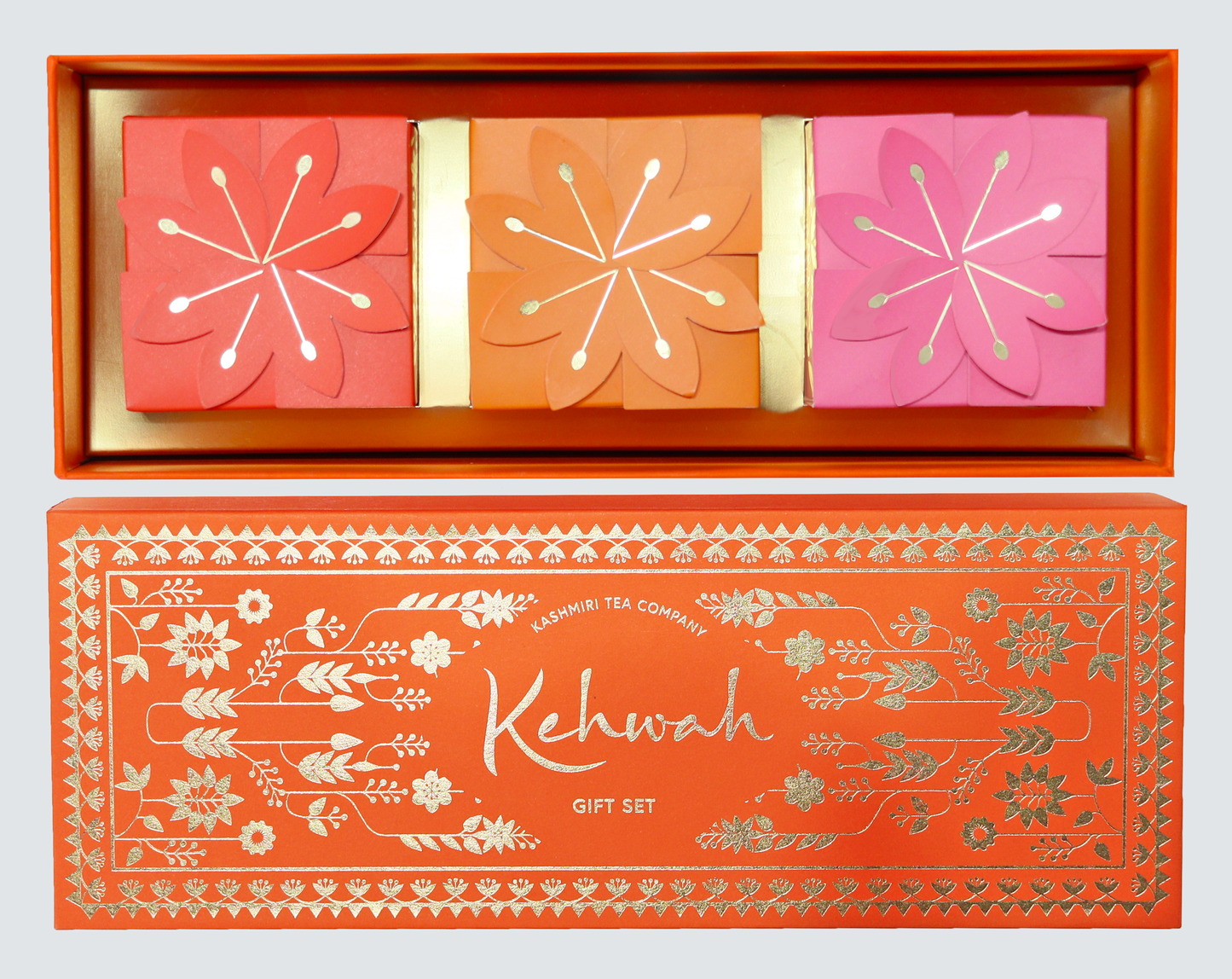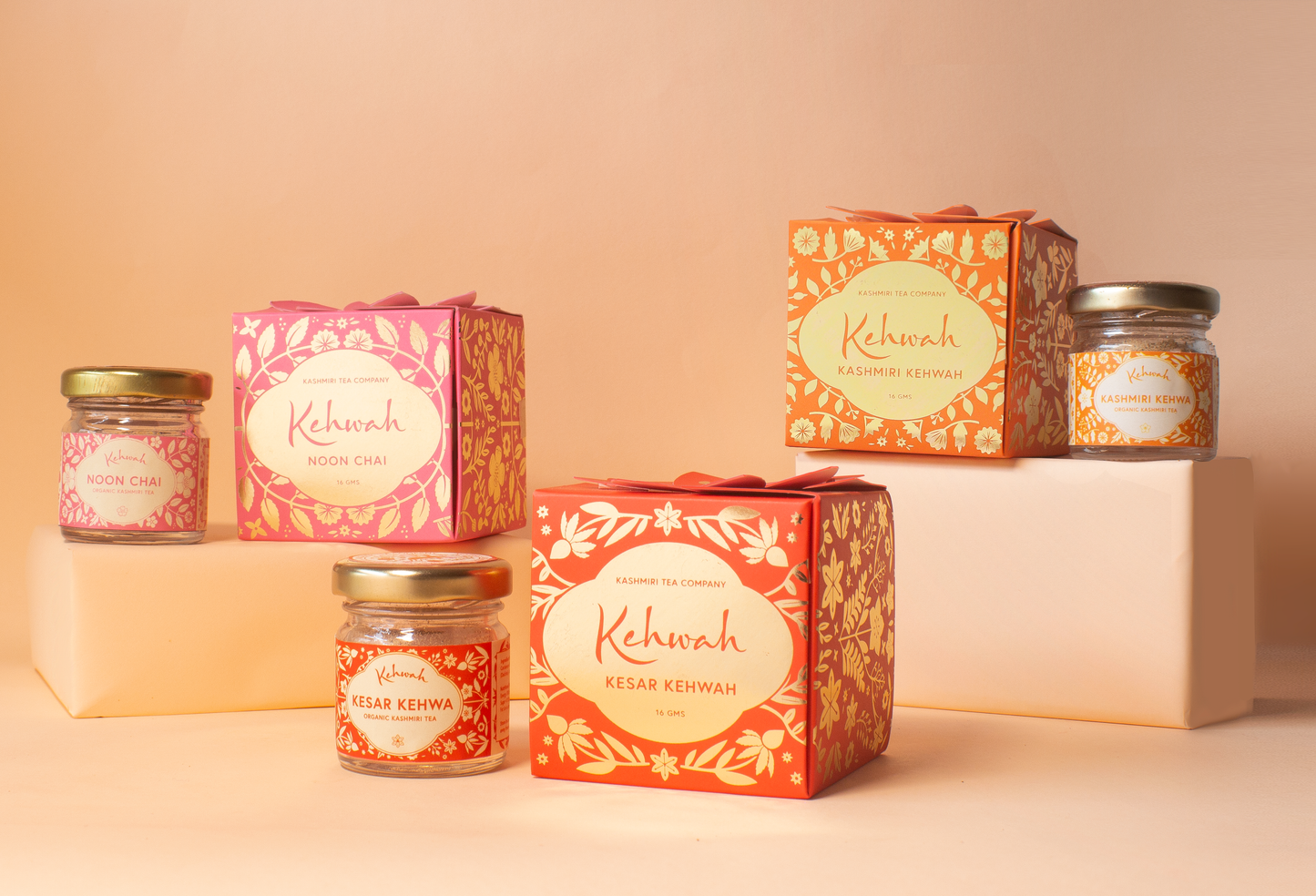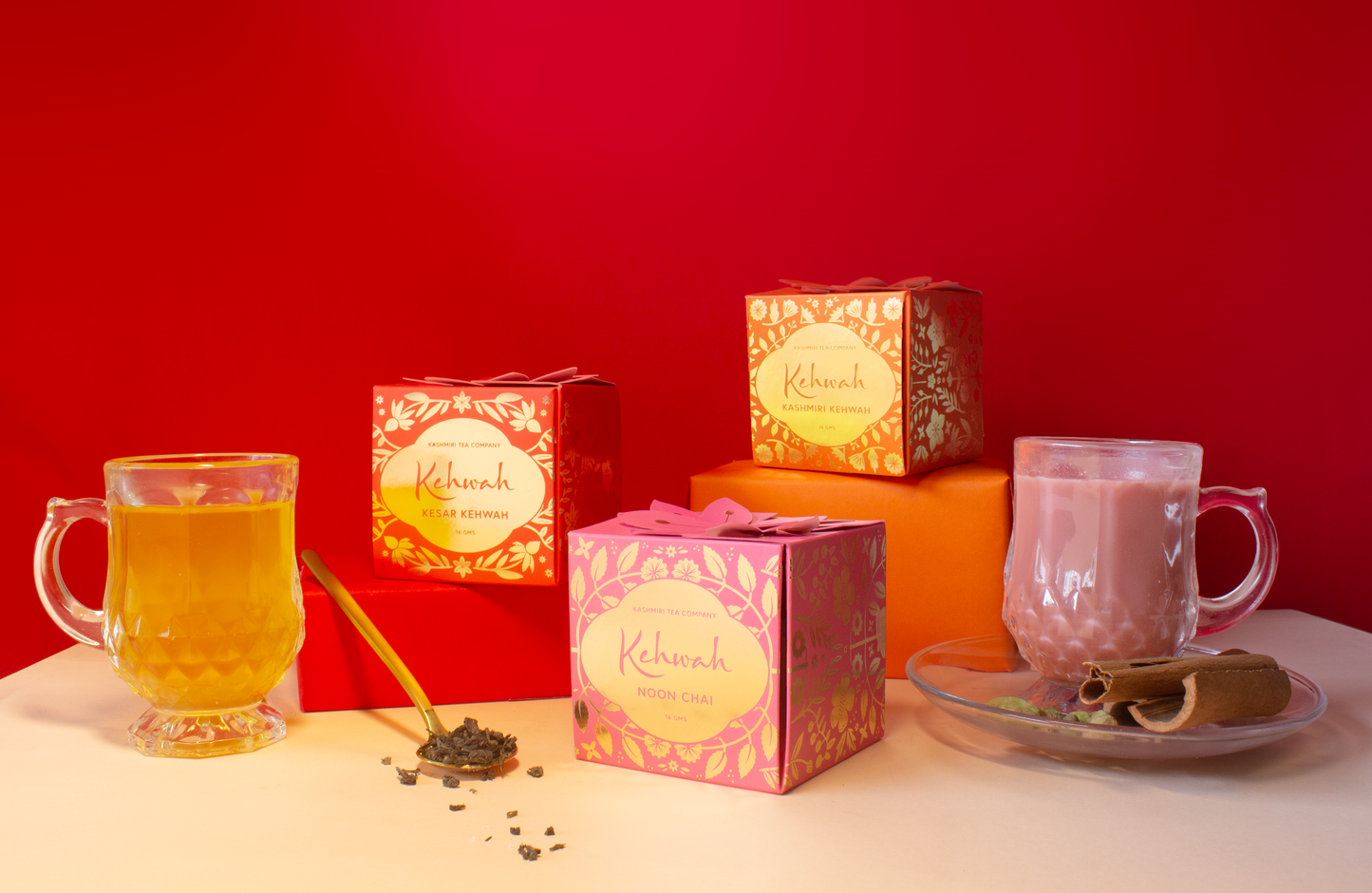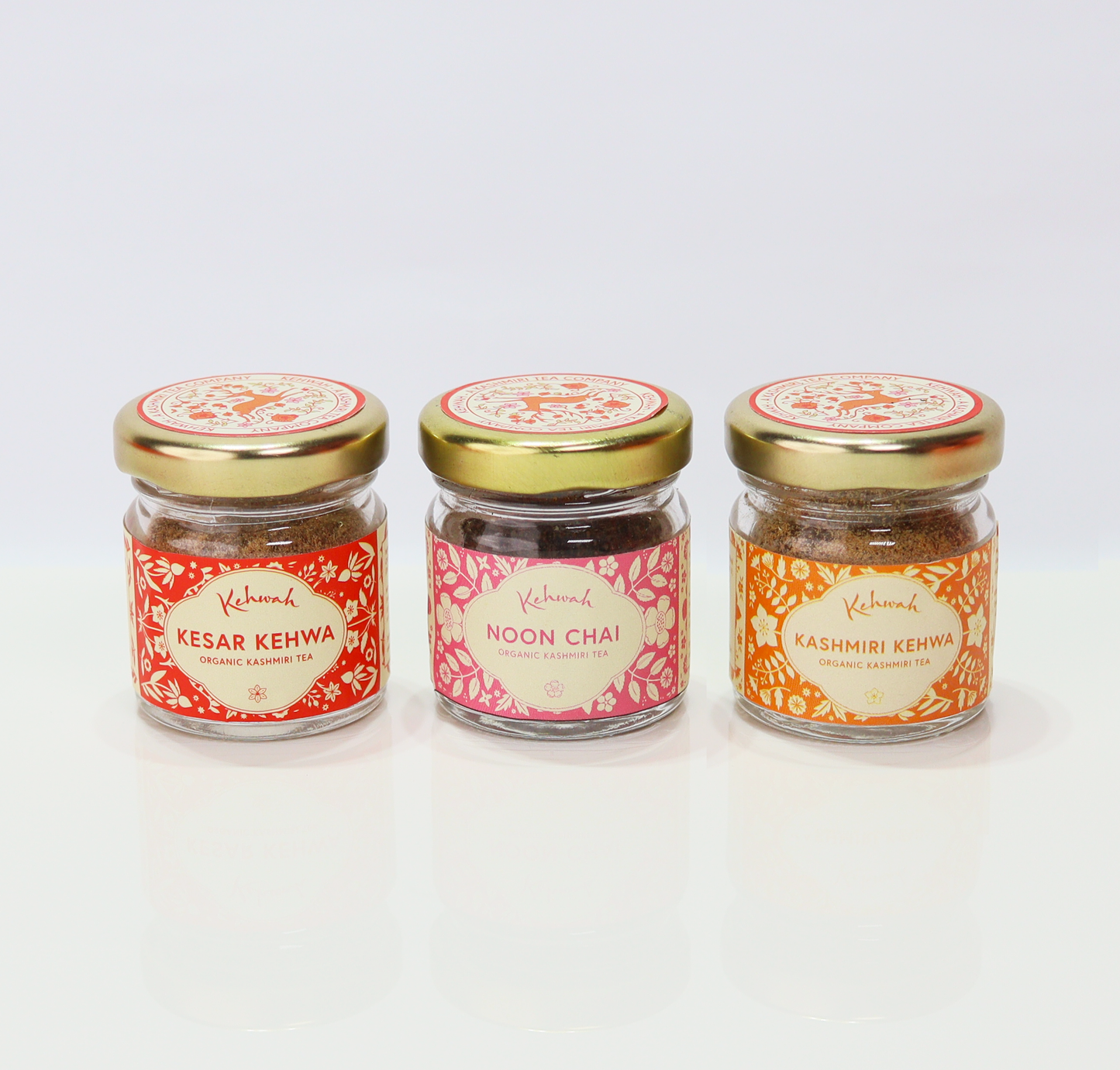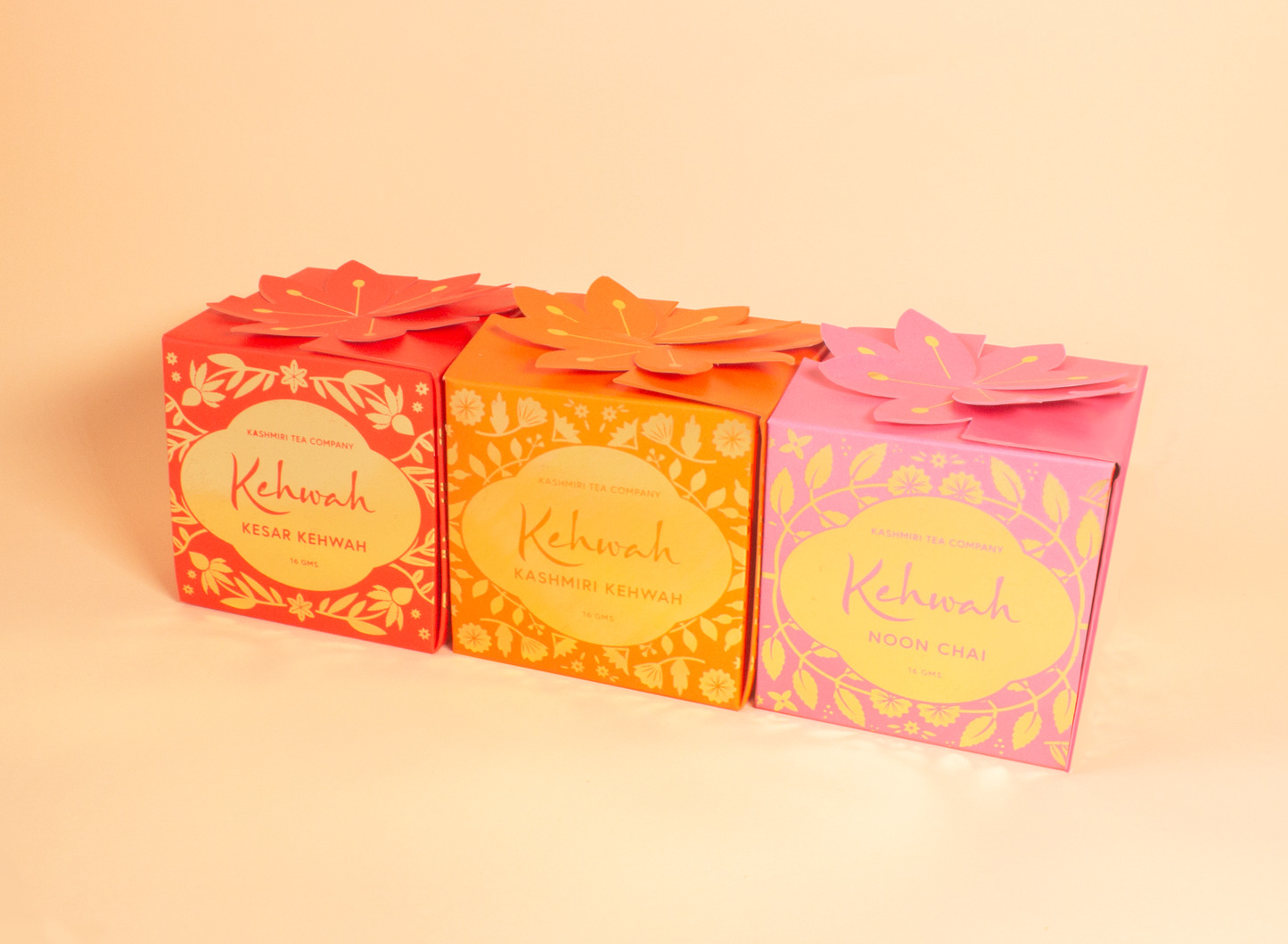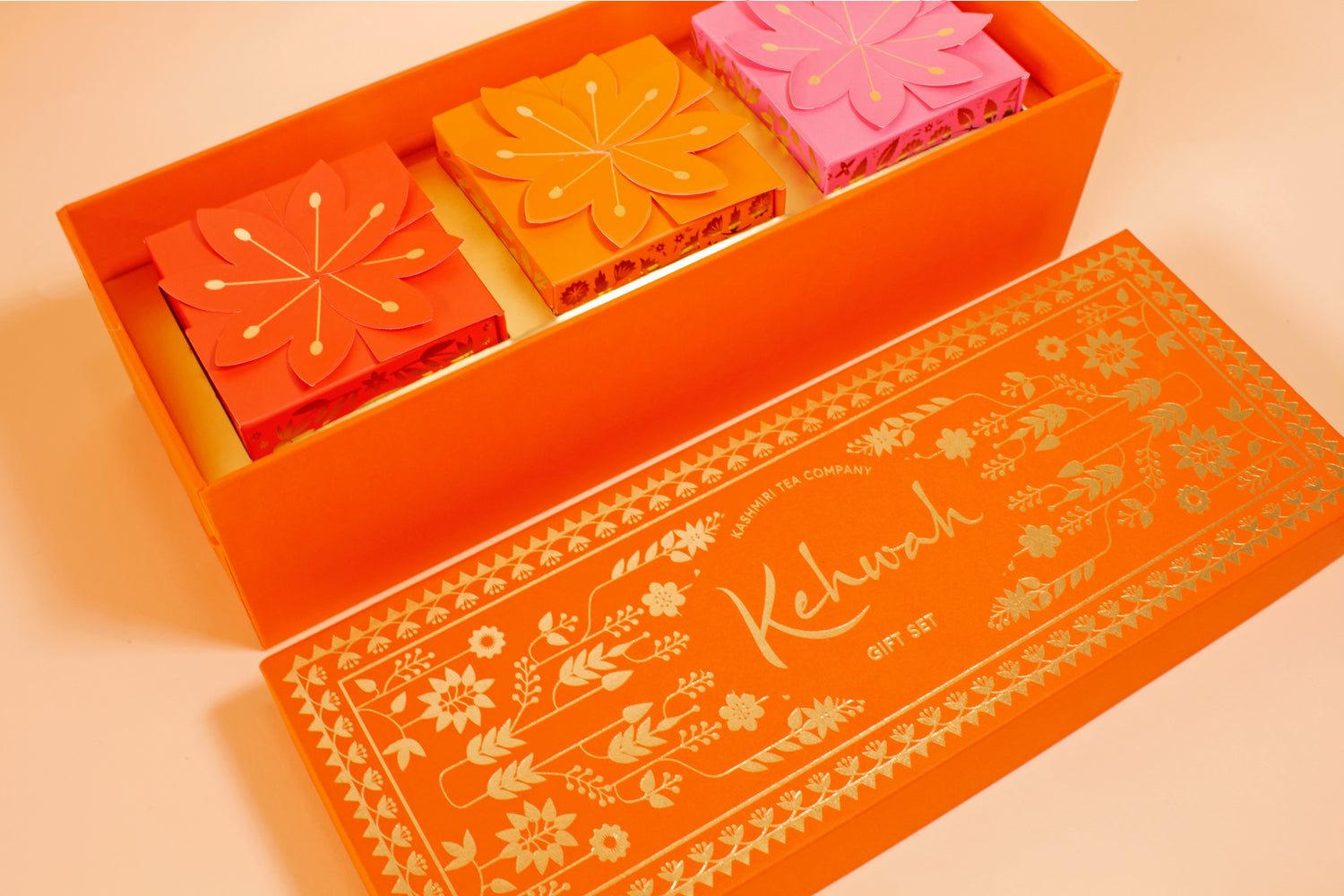 Elevate Your Tea Game with Our Intricately Designed Gift Box of Pure and Delicious Teas
Ready for a truly unique and special gift? We have the perfect present for you! Our Assorted Teas Gift Box is filled with our three teas, each one presented in an elegant and intricate origami design tea boxes, made with care and attention to detail. These boxes will truly stand out and make a statement! Not to mention, the inside tea glass bottle are sturdy and has a freshlock, keeping the teas fresh and fragrant for longer. Plus, the overall look of the gift box is designed to make it an ideal gift for any occasion.
When you open the gift box, you'll see the three origami tea boxes nestled together in a larger box, the packaging is sturdy and beautiful. Trust us, the recipient will be thrilled to receive a gift that is not only delicious, but also visually pleasing, making it a perfect gift that's sure to delight.
Each bottle contains 16 grams of tea powder, and you'll have enough to enjoy a total of 90 cups of these comforting tea. So don't hesitate and get your hands on this unique and special gift box today!
Kesar kehwah

Kashmiri kehwah

Noon chai
Praise for the Gift box
"I was gifted the Assorted Gift Box and I have to say, it was an absolutely delightful experience. The teas are so unique and so delicious. The origami design of the tea box is really beautiful. It made for the perfect gift, I would highly recommend it to anyone looking for a special and authentic tea experience."
- Mr. Bhaskar, New Delhi

"The Gift Box is great, the Kesar Kehwah saffron tea was my favorite. The whole package is visually pleasing and the teas are organic, making it an ideal gift for any health-conscious person. I couldn't recommend this gift box more highly."
- Mrs. Mehta, Mumbai

"I am so impressed with this Gift Box! The teas inside are so unique and delicious, I've never had anything like it before.. The packaging is beautiful, and the overall look of the gift box is so stylish that it makes for a perfect present for any occasion. Great gift for any tea lover."
- Mr. Srinivasan, Bangalore