Regular price
Sale price
₹ 599.00
Unit price
per
Sale
Sold out
Introducing Kesar Kehwah, the pride and joy of our tea collection. Made with only the finest saffron from the picturesque Kashmir valley, this tea is a true labour of love.
Inspired by our mother's longing to keep her loved ones healthy and close, even when separated by distance. She would tuck a small bottle of this precious tea in our bags, as we set out on our journey, a reminder of her love and the warmth of home. Savour the rich aroma and taste of saffron, with every sip of Kesar Kehwah, and let it transport you to the comforting embrace of loved ones.
Experience the soul-soothing properties of this rare and exclusive brew, crafted with love and care.
Indulge in the luxury of Kesar Kehwah, and let it be the highlight of your day, your moment of calm and serenity, just as it is for us, the cherished first child of our tea family.
Order yours today and take a sip of home.


✦ 16gram: 25-30 cups (~20rs/cup)
✦ Boil with water for more flavour

Benefits

Saffron, known for its antioxidant properties, it can help boost the immune system, improve digestion and reduce stress and anxiety.
Cardamom, known for its anti-inflammatory properties, it can help ease stomach discomfort and improve breathing.
Almonds are a rich source of Vitamin E, magnesium and healthy fats that can help promote heart health and lower cholesterol levels.
Cinnamon, known to have anti-inflammatory properties and can help regulate blood sugar levels and improve digestion.
Ingredients

Saffron (Kesar)
Cardamom (Elaichi)
Almonds (Badaam)
Cinnamon (Dalchini)
No sugar or artificial sweetner added
No milk
Nutritional info

Nutritional Facts {approx.} per 100g
(Every bottle is 16gms)

Energy 318.64 kcal
Protein 19.42 gm
Sugar (Natural) < 0.10gm
Carbohydrate 60.24 gm
Fat (on a dry basis) <0.10 g
Shipping

The product will reach you within 3-5 business days
Share
View full details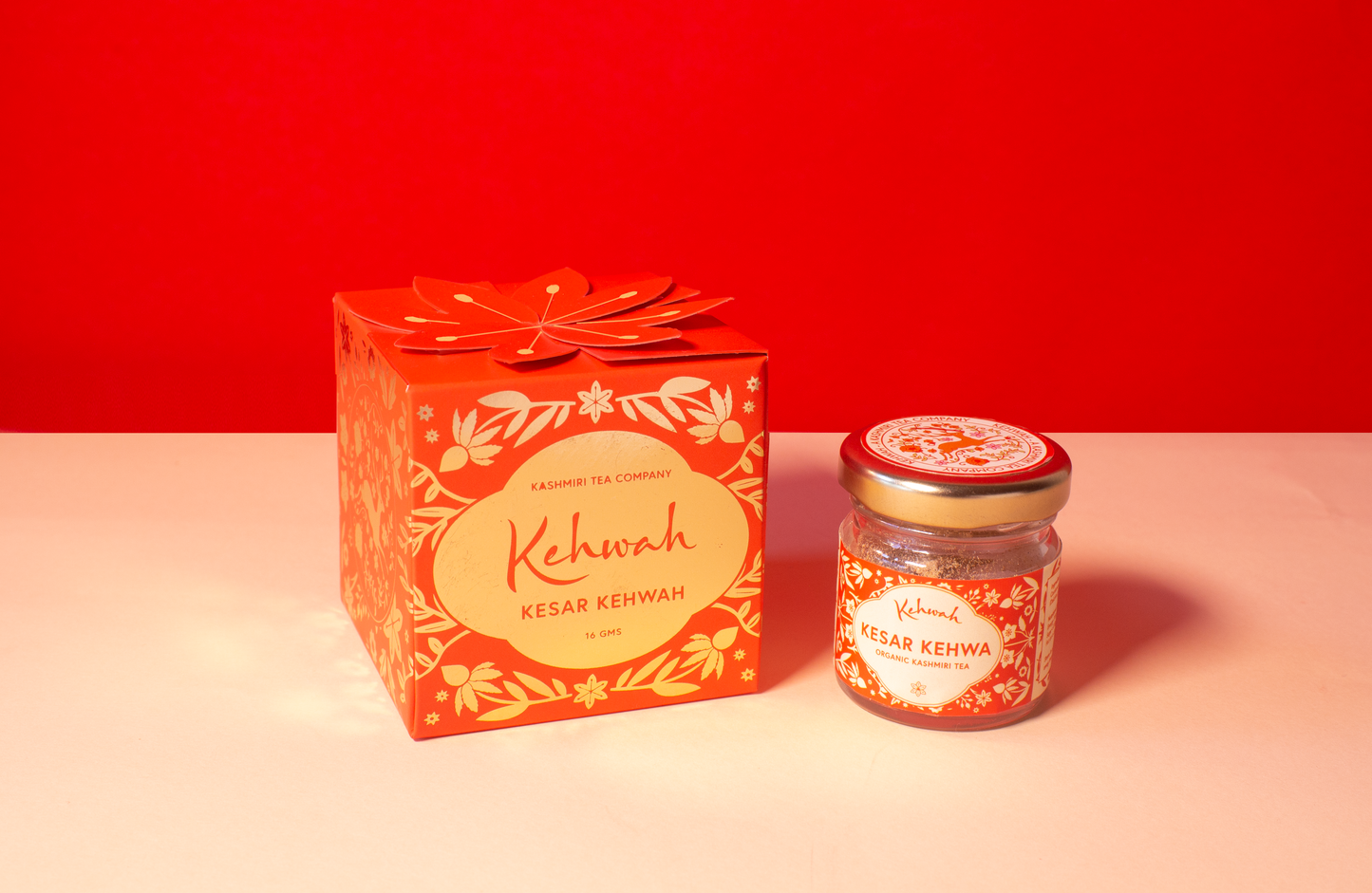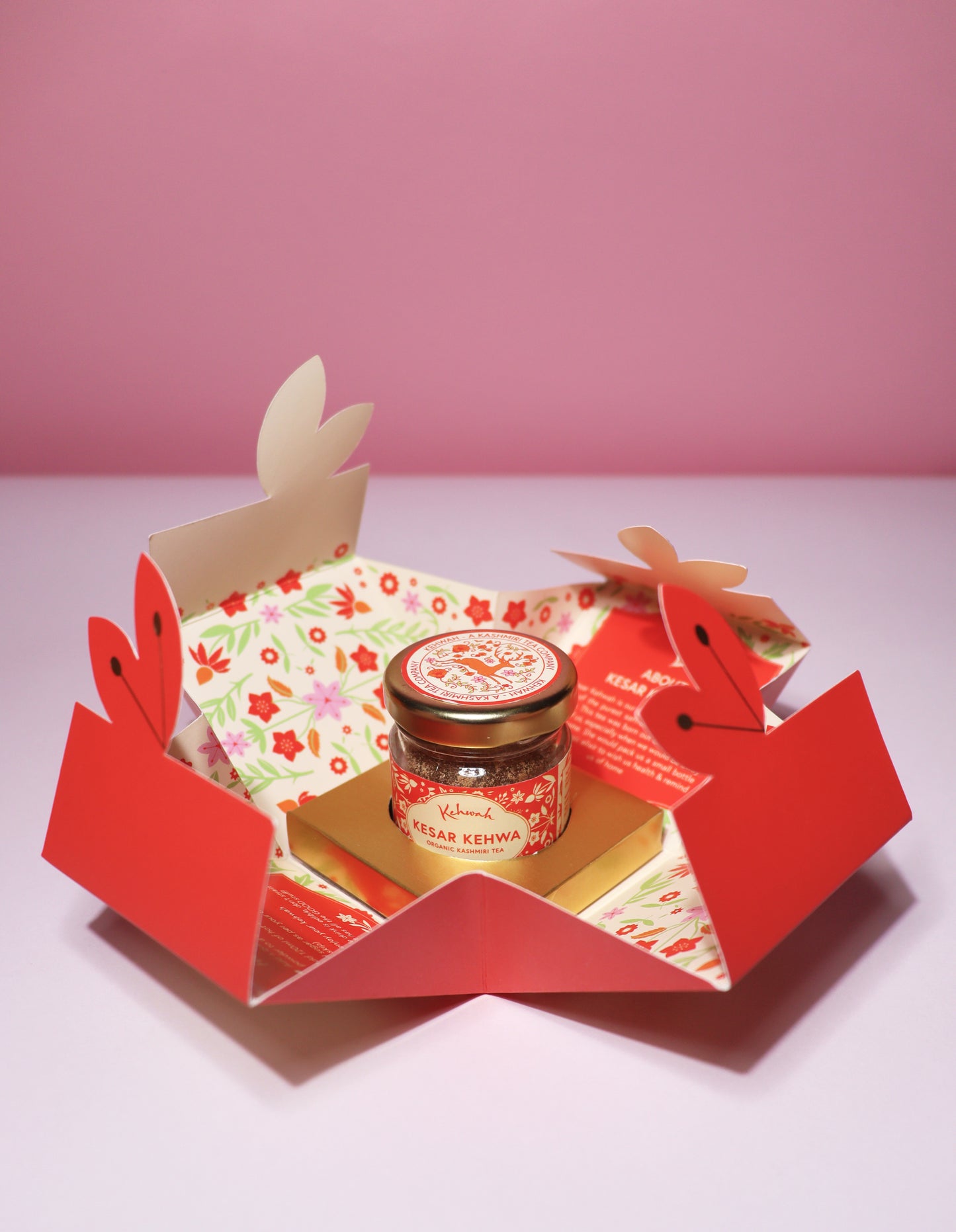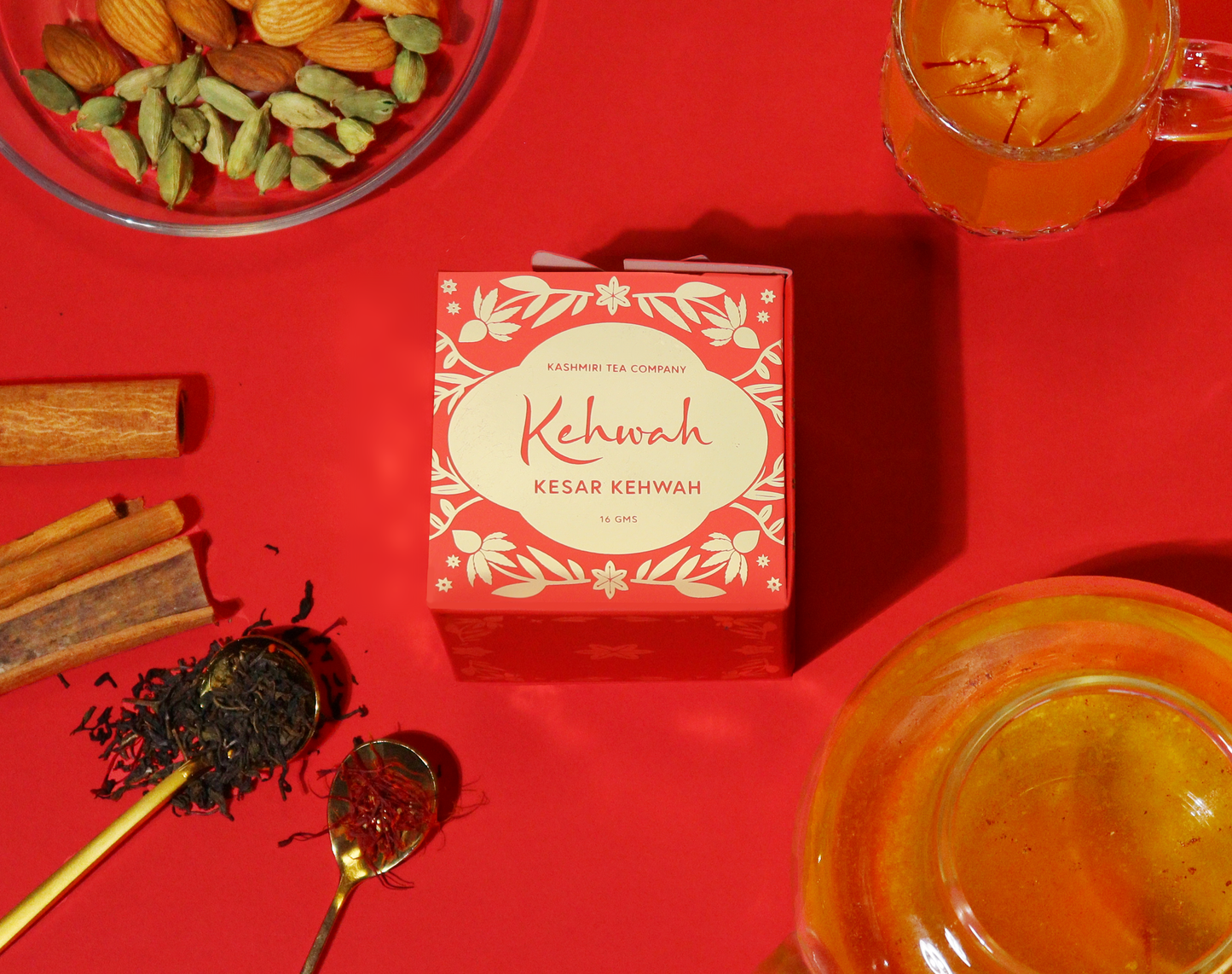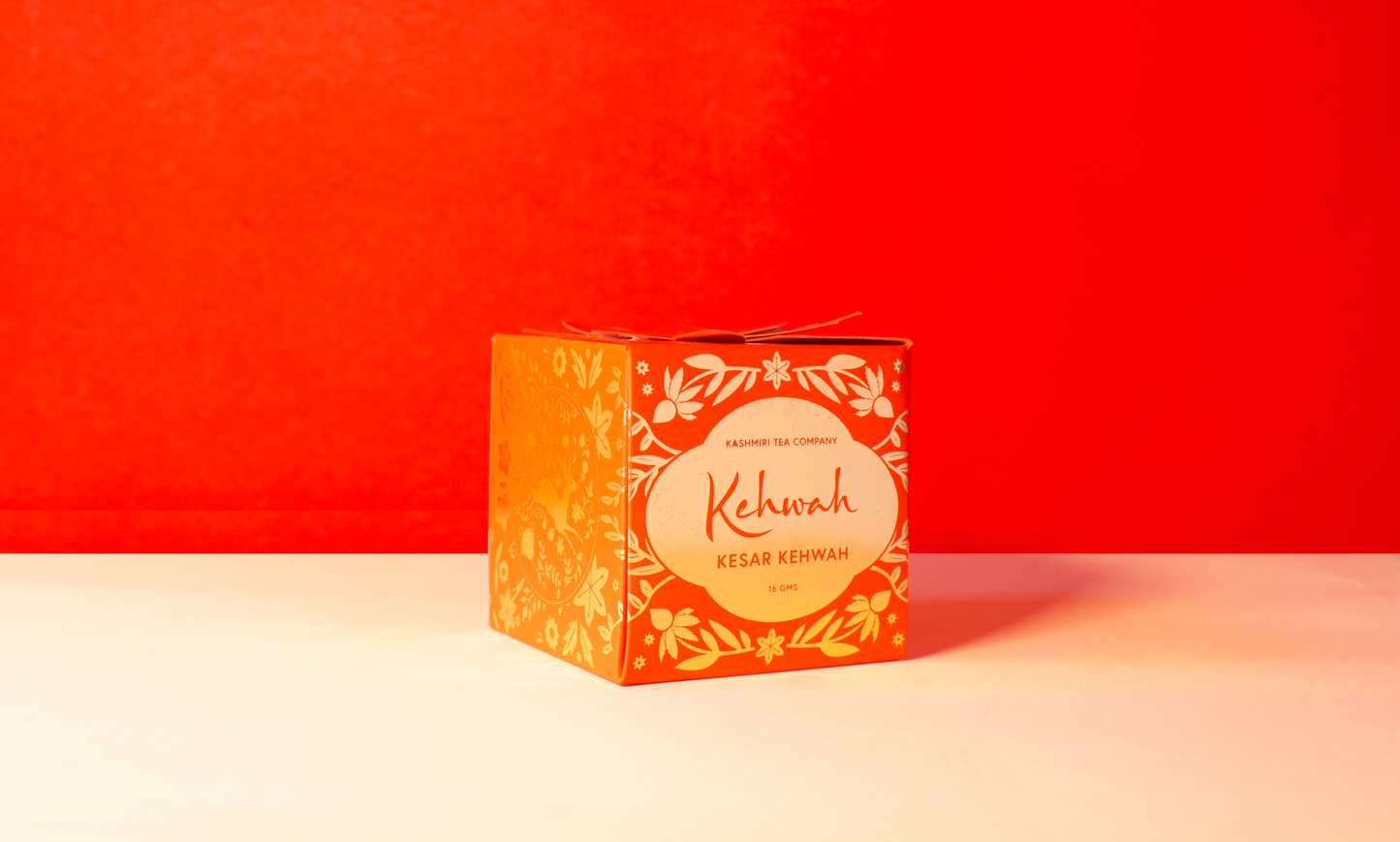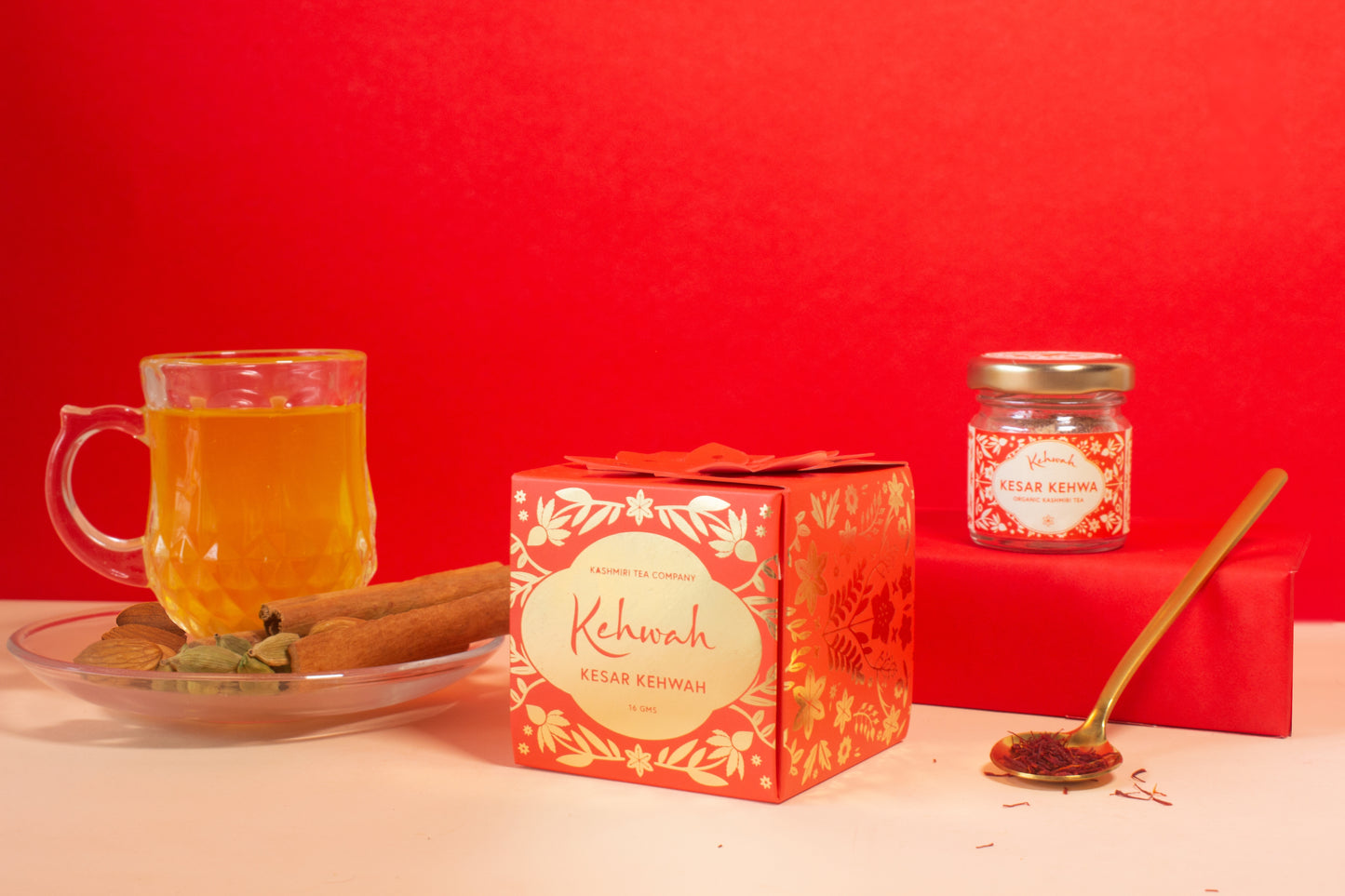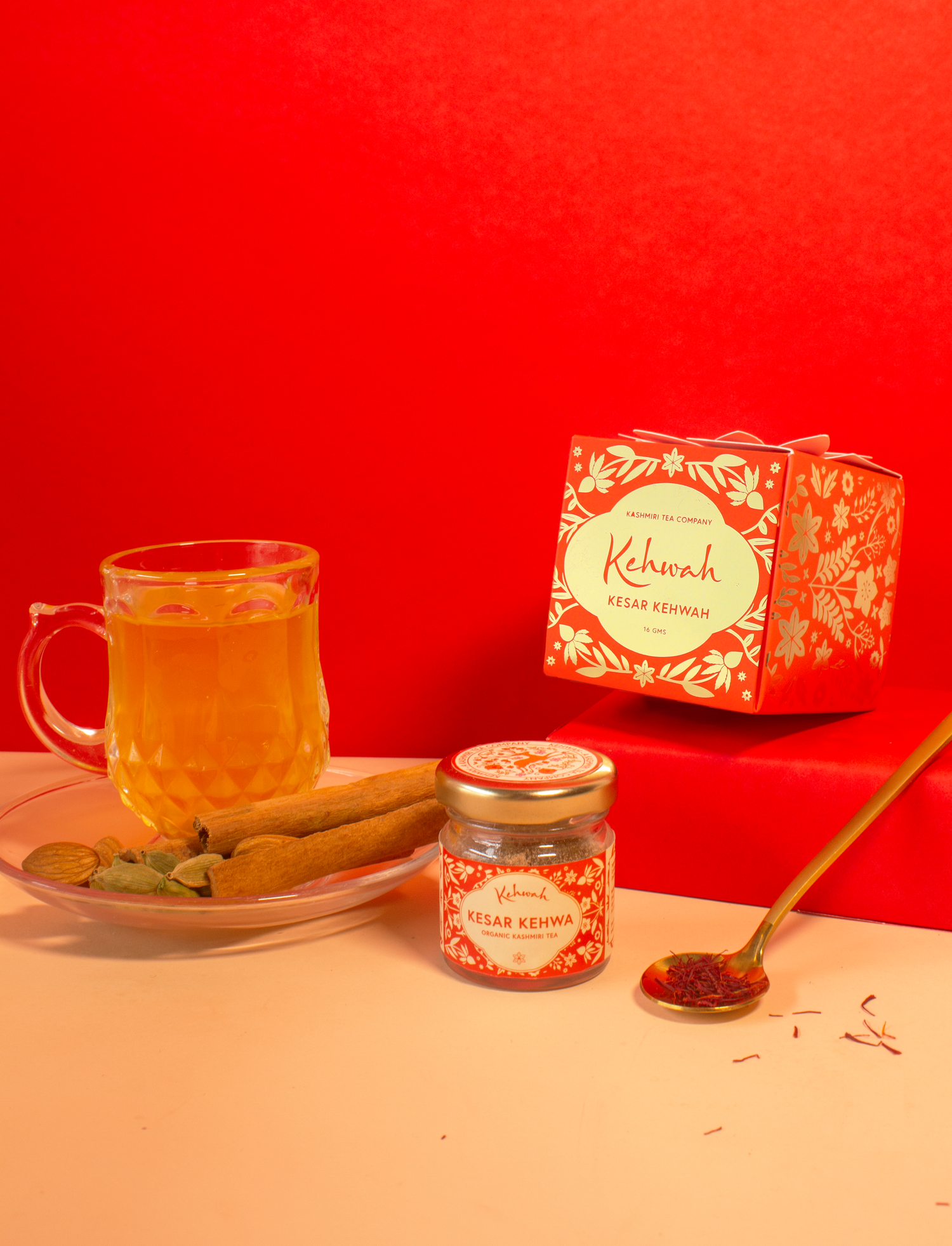 Introducing Kesar Kehwah: The Pride and Joy of Our Tea Collection
The warmth of a freshly brewed cup of Kesar Kehwah tea, a perfect way to start your day! To make your own cup of this divine brew
Grab a small transparent cup
Add a quarter teaspoon of the tea powder
Pour 120ml of hot water into the cup
Add sugar as per your taste preference (can skip)
Stir the tea until the powder is fully dissolved in the water
Enjoy your kehwah, Don't strain the powder, it has all the good stuff!
Enjoy your aromatic, delicious, and authentic kesar kehwah tea.

Each bottle containing 16 grams of tea powder, you'll have enough to enjoy a total of 30 cups of this comforting tea. So sit back, relax, and let Kesar Kehwah transport you to a place of warmth and serenity.
Saffron

Cardamoms & Almonds

Cinnamon
Praise for kesar kehwah
"I've been a fan of Kesar Kehwah tea for years now and I can't recommend it enough! The unique blend of saffron and other spices not only tastes delicious, but it also makes me feel soothed and relaxed. It's the perfect way to start my day or to unwind in the evening." - Anjali S.

"I recently discovered Kesar Kehwah tea and I'm hooked! The aroma is absolutely heavenly and it's super comforting. It's also a great alternative to regular tea as its dairy-free and I love that it's made with natural ingredients." - Rittesh K.

"As a tea connoisseur, I am always on the lookout for something new and unique. I am so impressed with Kesar Kehwah tea! The flavors are incredibly nuanced and the quality of the saffron is top-notch. I highly recommend it to anyone looking for a special tea experience." - Aashima G.