Regular price
Sale price
₹ 399.00
Unit price
per
Sale
Sold out
Discover the delicious magic of Noon Chai, the beloved post-meal drink of the valley. This unique and traditional tea is the perfect accompaniment to a heavy meal, helping to aid digestion and refresh your palate. And it's not just for post-meal, but it's great between lunch and evening tea as well.
Though it may be an acquired taste, it's a joy that keeps on giving.. Made with only the finest, locally sourced ingredients, including sheer-chai tea leaves, cardamom, cinnamon, baking soda and salt. And without any added milk, you can truly taste the complexity and depth of the flavours.
You can simmer it with milk to get the traditional pink color or alternatively just add hot water directly to get the non-milky salty tea ready.
Experience the ultimate in refreshment and comfort with a cup of Noon Chai, the taste of the valley in every sip!

✦ 16gram: 25-30 cups (~15rs/cup)
✦ Boil with water for more flavour

Benefits

Green tea, packed with antioxidants that can benefit your overall health, including your heart and brain. It can also help with weight loss, blood sugar control, and potentially even lower your risk of certain types of cancer.
Cardamom, known for its anti-inflammatory properties, it can help ease stomach discomfort and improve breathing.
Cinnamon, known to have anti-inflammatory properties and can help regulate blood sugar levels and improve digestion.
Baking soda, helps neutralize stomach acid, which can be beneficial for people with indigestion or heartburn. It can also help to balance the body's pH levels and aid in overall digestion.
Salt, helps replenish electrolytes and minerals. It also helps to balance the body's fluid levels and may improve hydration
Ingredients

Sheer-chai tea leaves
Cardamom (Elaichi)
Cinnamon (Dalchini)
Baking soda
Salt
No added milk
Nutritional info

Nutritional Facts {approx.} per 100g
(Every bottle is 16gms)

Energy 318.64 kcal
Protein 19.42 gm
Sugar (Natural) < 0.10gm
Carbohydrate 60.24 gm
Fat (on a dry basis) <0.10 g
Shipping

The product will reach you within 3-5 business days
Share
View full details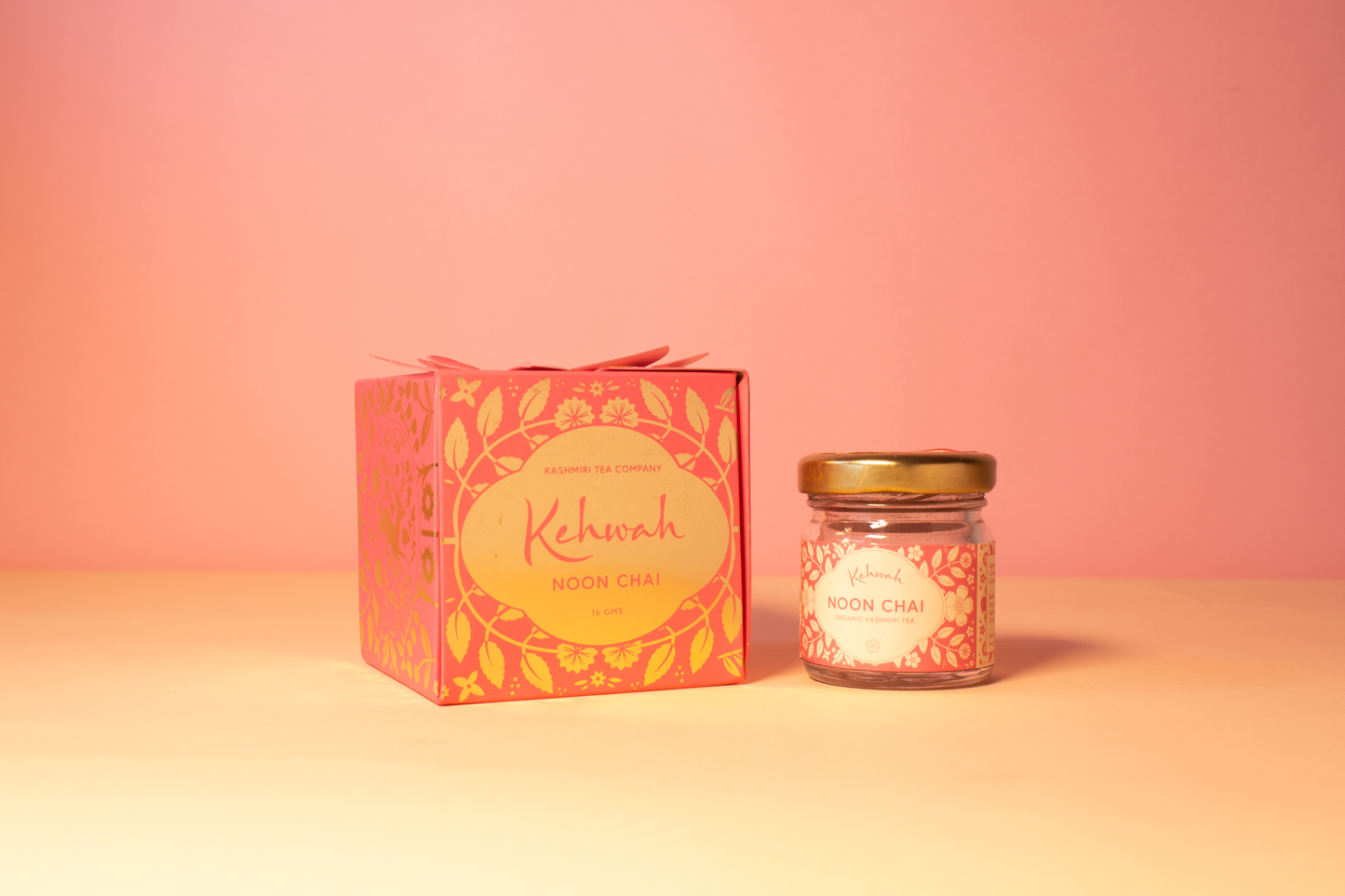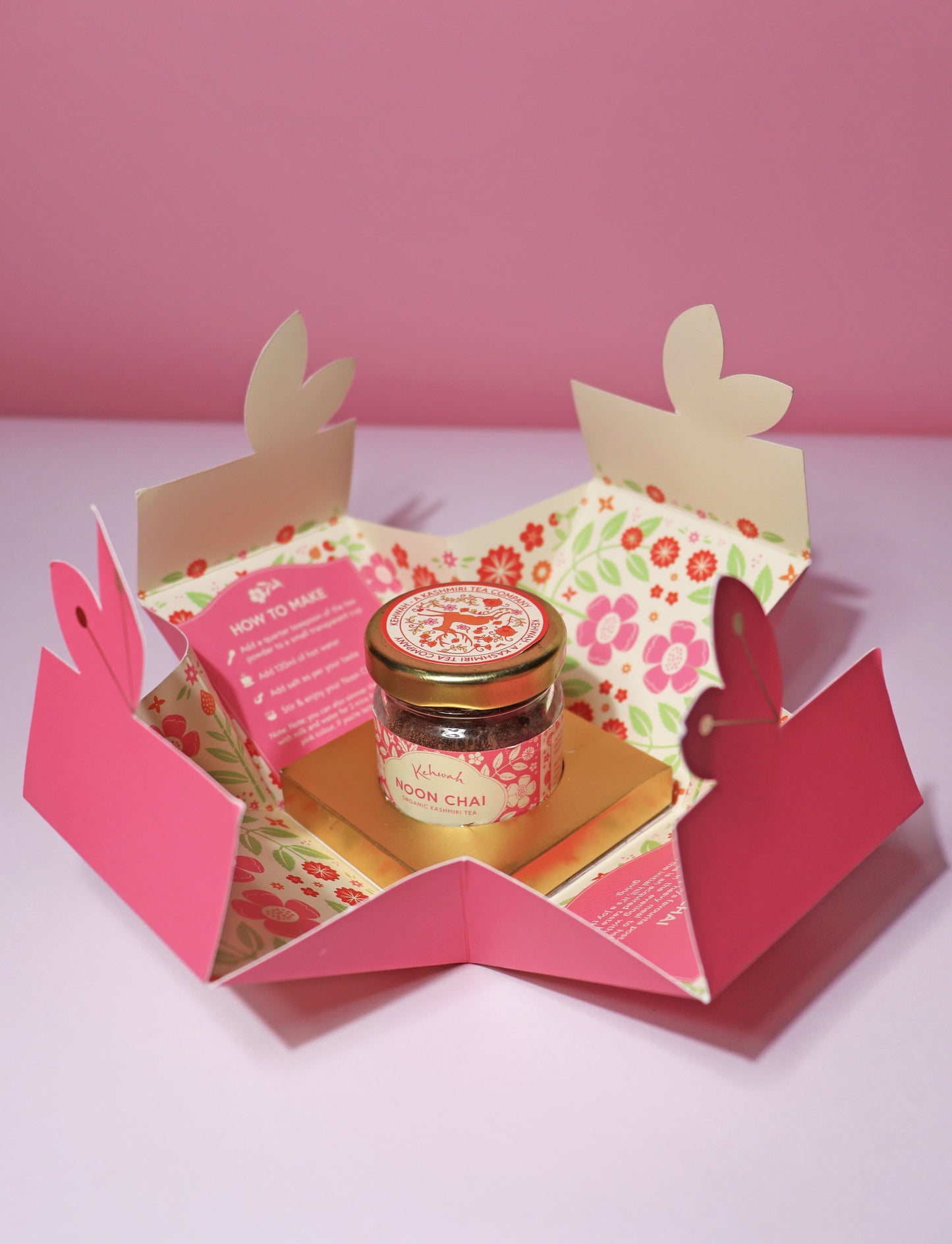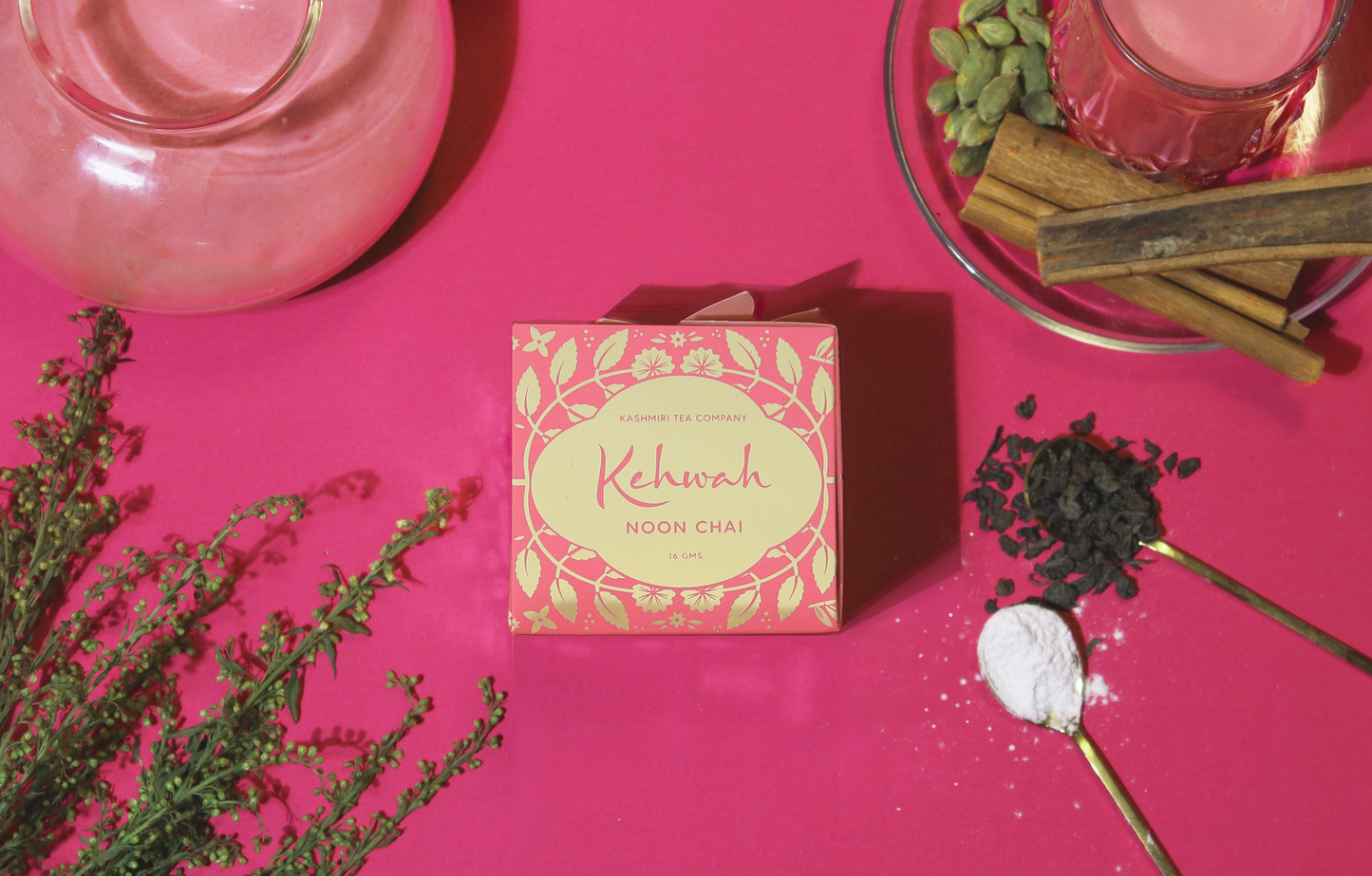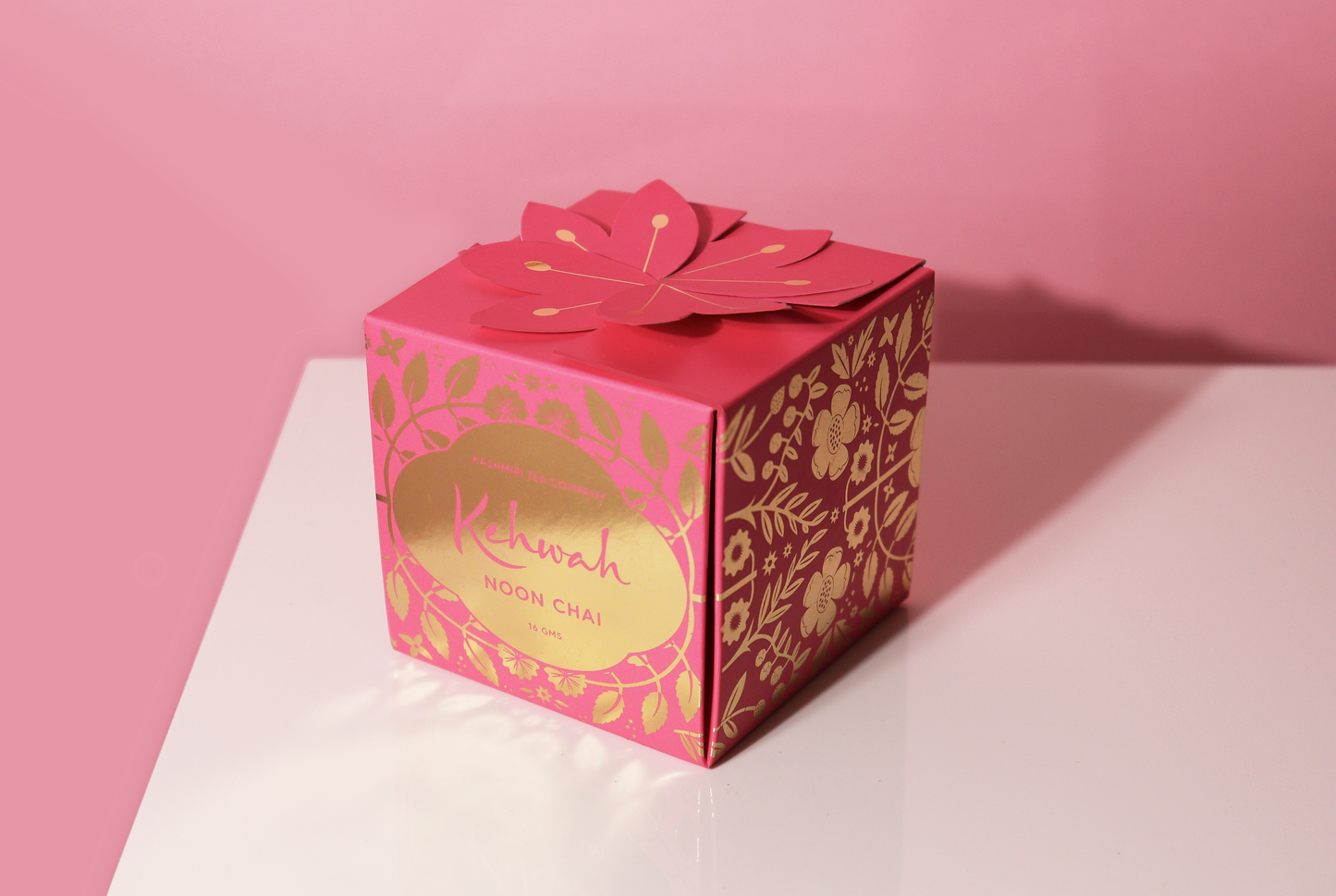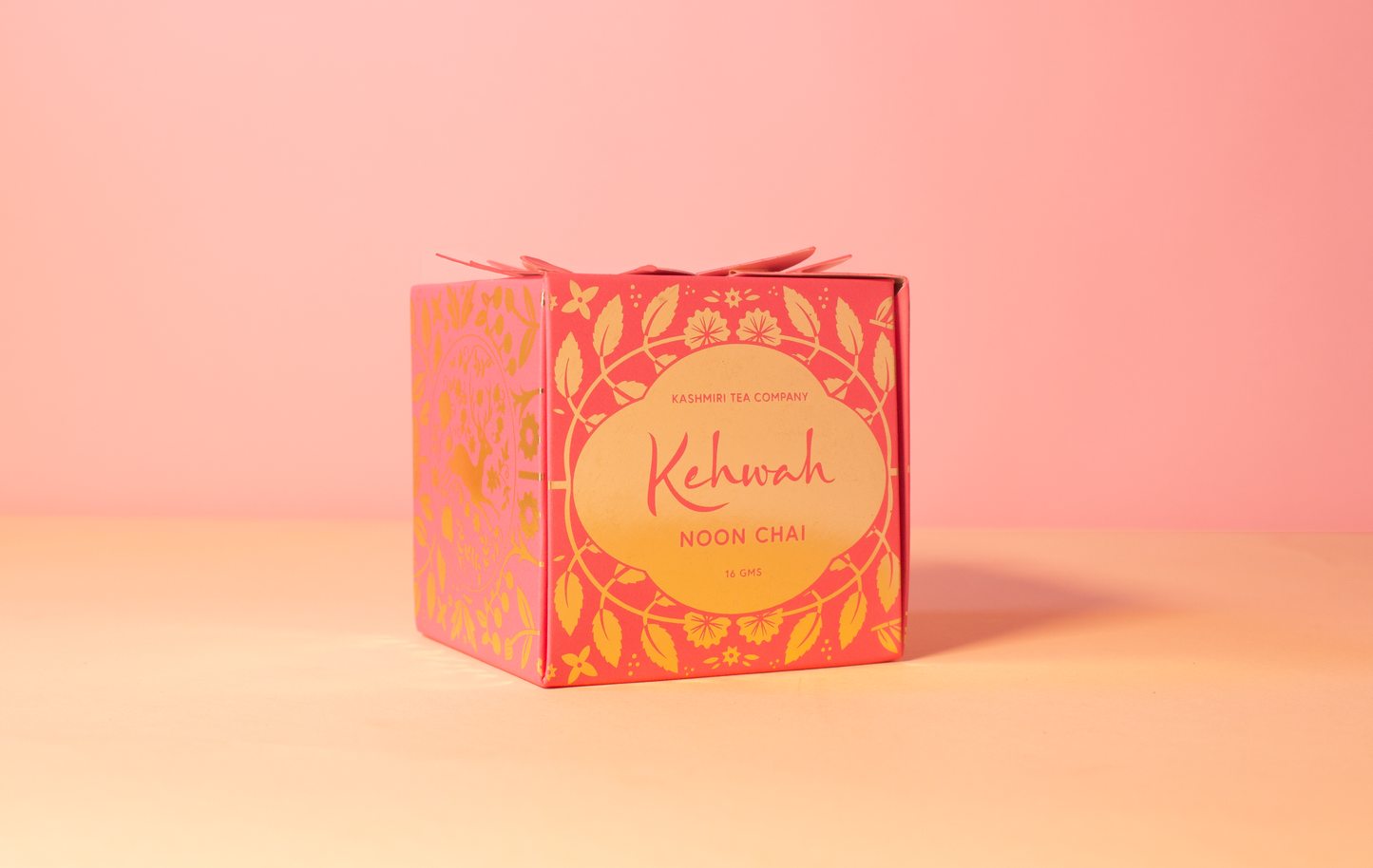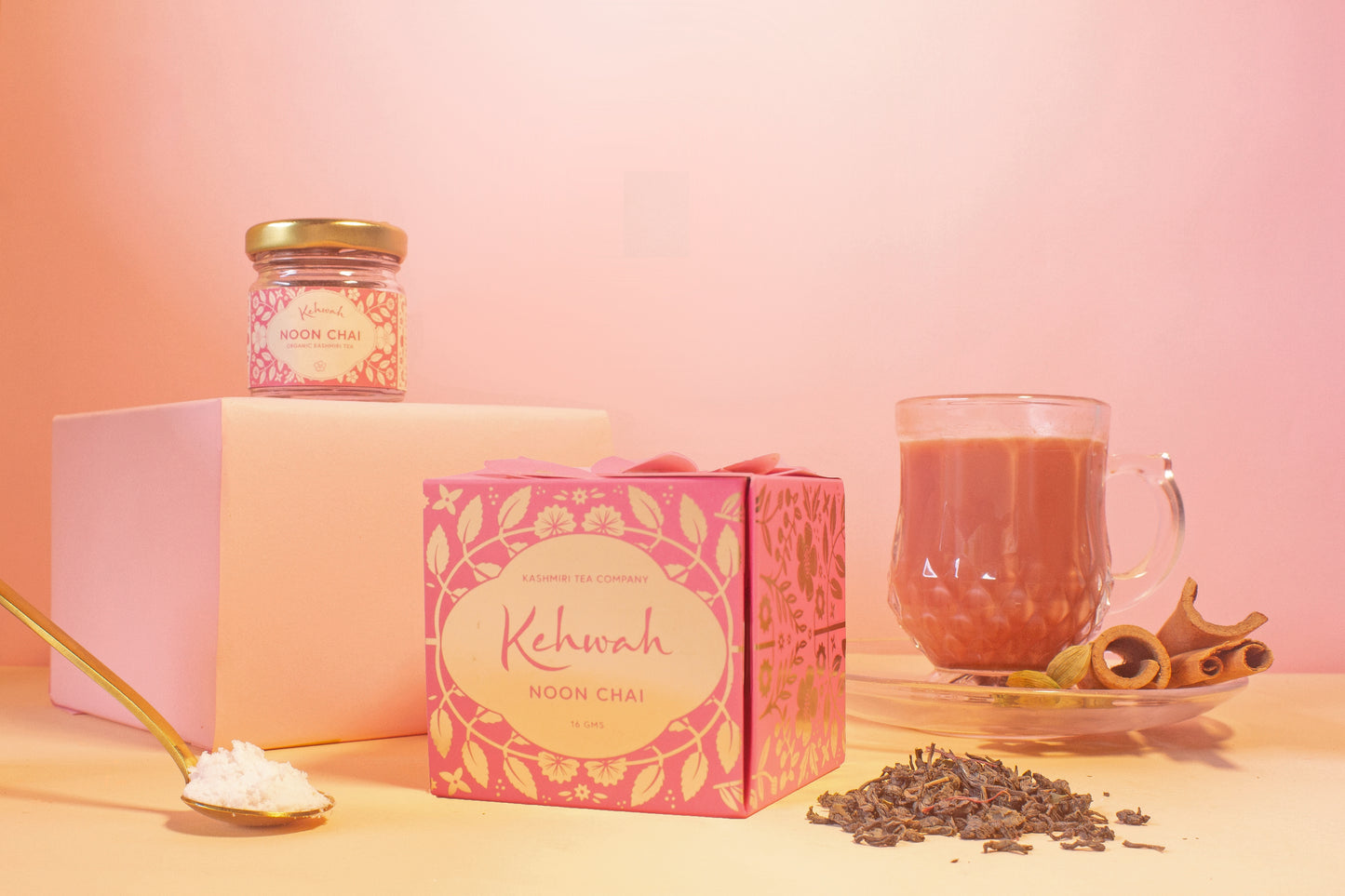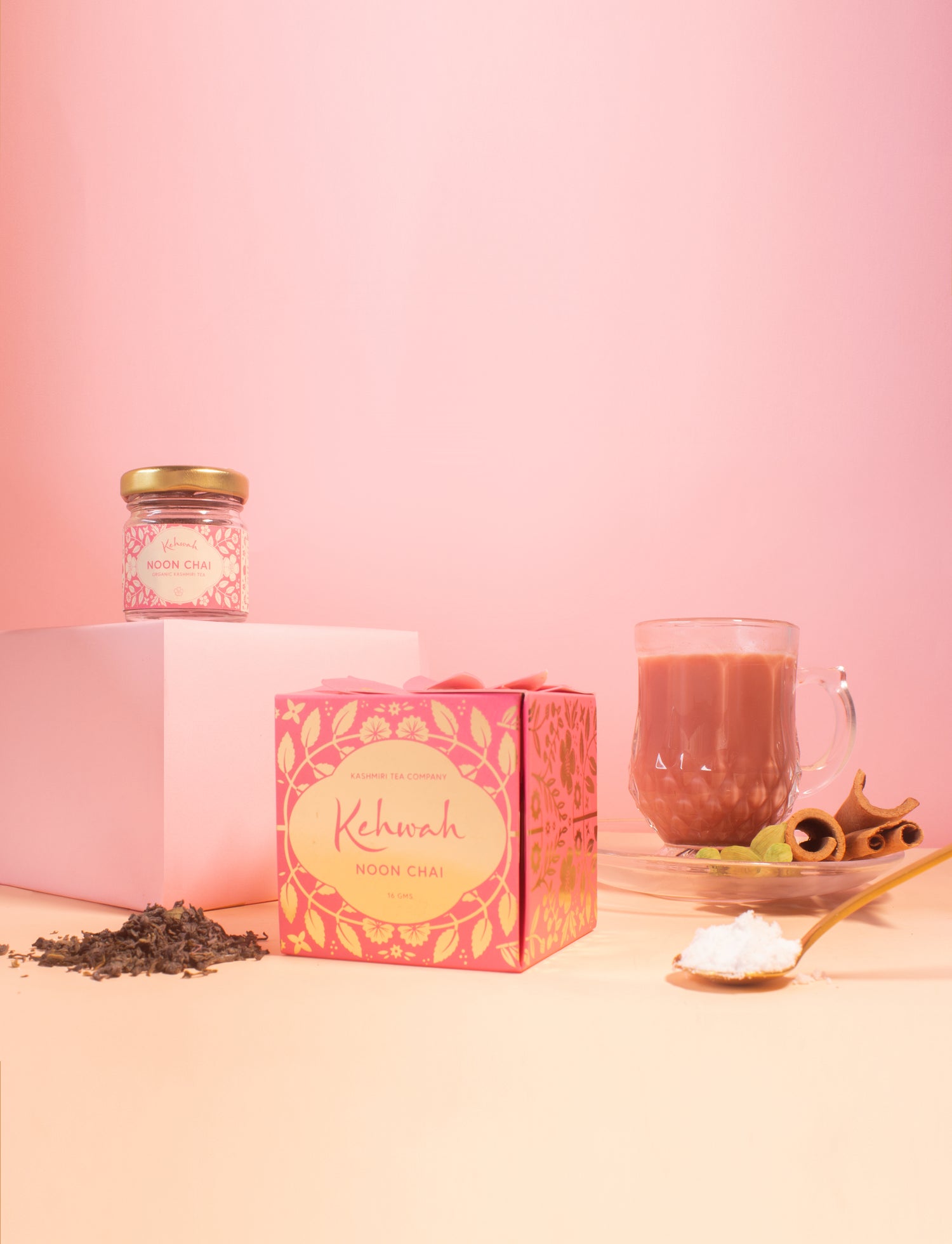 Sip into Comfort with Noon Chai, the Ultimate Warm and Cozy Drink
To experience the warm and comforting sensation of noon chai:
Grab a small transparent cup
Add a quarter teaspoon of Noon chai tea powder
Pour 120ml of hot water into the cup
Add extra salt to your taste preference
Stir the tea until the powder is fully dissolved in the water
Enjoy your Noon chai as is, or for a creamier version, you can simmer it with some milk for 5mins for its authentic pink colour (if you're lactose-friendly).
Enjoy your authentic and delicious Kashmiri tea experience!

Each bottle contains 16 grams of tea powder, giving you enough to enjoy a total of 30 cups of this delicious and comforting tea. So, go ahead and treat yourself to a cup today!
Green tea leaves

Cardamoms & Almonds

Cinnamon
Praise for noon chai
" I love Sheer-chai, it's not only delicious but also really helps with digestion post meals. The salt and tea together gives very a unique and satisfying taste. I always crave for a cup of it after having heavy meals. Highly recommended for people looking for a healthy and tasty tea option."
- Mrs. Srinivasan, Bangalore

"Sheer-chai tea is like a flavourful explosion in your mouth! The unique blend of tea with spices and salt is so perfect it's like they were made for each other. I've never had anything like it and I'm hooked! I've recommended it to all my friends."
- Mrs. Kaur, New Delhi

"I've recently started drinking Sheer-chai tea and I find it to be a unique blend of tea. I appreciate the balance of flavors, the aroma is pleasing and overall it's a good tea to enjoy"
- Mr. Patel, Ahmedabad